EOS R6 and EOS R5 have amazing autofocus capability and I wanted to configure my EOS R6 autofocus controls to provide me with direct access. Here's my custom buttons for EOS R6 / R5 AF.
When the cameras first came out I thought that I'd simply move my extensive custom settings from the EOS R over to my EOS R6. With the experience that come from using the camera for a few months, I've revised my setup to make the best of the capabilities and controls on these cameras.
EOS R5 / EOS R6 autofocus controls customisation
Since having the camera I've mostly photographed people, but I have also tried some back garden and local nature reserve wildlife too -something to do with a pandemic and three lockdowns.
The settings I've made work for both cameras and these are the buttons and controls that I've changed
Joystick / multi-controller
AF selection button
Movie button
AF-ON button
The joystick is back!
I'm so happy to see the return of the joystick / multi-controller on both cameras. It's such an instinctive control to use to reposition your AF point. Like all my other EOS cameras with a joystick I have it configured for direct AF point selection. Don't forget this also means that if you push the joystick in to the camera body, the AF point will return to the centre of the image.
Quite possibly this is the one control where I think Canon's default setting over the years is always wrong. It's also the one that gets the biggest "thank you for making my camera work better" on any workshop or 1-2-1 training session. You may also need to set the AF point location for landscapes, macro and still life photography.
If you are wondering why I'm still using the joystick with the marvellous face and eye-AF? The reality is that sometimes you will need to direct the camera where to focus, if there's no obvious subject, or your composition of a person doesn't include two eyes, nose and mouth.
C.Fn3 > Customise buttons > Multi-controllers > Direct AF point selection
With the return of the joystick I have no need for touch and drag AF on the camera. If I'm using the camera on a tripod I can move the AF point by touching on the screen or with the joystick, but for shooting with the viewfinder the joystick wins every time.
---
AF point button – toggle AF method
I was really happy with my EOS R setup using the movie button to switch AF method and I did the same with my EOS R6 autofocus controls initially. Now I've moved it again. EOS R5 / R6 have more buttons available to use for direct AF method selection, and I now use the AF point button. A simple press of the button toggles the AF method between the available AF methods, which are 1-point AF and face detection on my camera.
Conventionally the AF point button is the start of access to two AF settings, AF point position and AF method selection. You press the button to tell the camera you want to change some AF setting, then press the M-Fn to change AF method, or move the joystick to reposition the AF point. Given that I just explained how to set the joystick for direct AF point selection, I no longer need the AF point button to give me access to that feature.
When I found I could set AF point button to direct AF method selection it was natural to change the button function, and I find it natural to use when shooting. It would be amazing if Canon would retrospectively provide this ability to the EOS R & RP via firmware updates.
C.Fn3 > Customise buttons > AF point button > Direct AF method selection
I do have a question for Canon, why is this useful change not possible when the camera is shooting movies? An oversight surely.
AF4 > Limit AF methods
I have found the face and eye detection AF so good that I can hardly see a need for anything else on the EOS R5/R6, but when that time arises it's been 1-point AF or very occasionally spot AF that is needed. I have therefore deactivated all the other AF methods on my camera apart from face detection and 1-point AF. I turn on spot AF only when needed.
---
Movie button – toggle Eye AF
My movie button is reconfigured to switch Eye AF on or off. It only works if the camera is set to face detection AF, and in the shoots I've done so far I hardly need to turn Eye AF off. However if the subject is really small in the frame you can turn it off for faster AF.
C.Fn3 > Customise buttons > Movie shooting button > Eye detection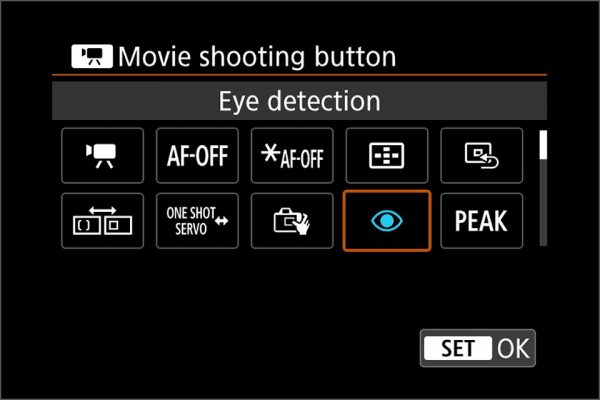 ---
AF-ON button – Eye detection AF
I've also reconfigured the AF-ON button to activate Eye AF. Whatever AF method I'm using, I can always get Eye AF focusing by using the typical back button, AF-ON.
C.Fn3 > Customise buttons > AF-ON button > Eye detection AF
What you might not have worked out is that I'm no longer using back button AF. I now realise that the terrible placement and shape of the EOS R AF-ON button was a Canon plan to wean me off back button AF 🙂
I had also used back button AF to avoid switching between servo and one-shot AF, press and hold for servo, press and release for one shot. However the new reality is that with EOS R5/R6 I can now use Servo AF all the time, and even recompose a portrait once the face has been detected.
---
Simpler setup for general photos
One of the many things I hear from photographers is how little they change their cameras from one shoot situation to the next. So many use aperture priority, 1-point or auto AF point selection and that is it. They simply select the aperture, focus and take the shot.
With the EOS R5 / R6 it is now much easier to have a camera that deals with many kinds of general photography. You can largely leave the camera in Servo AF since you can put the AF point where you want in the frame and focus with 1-point AF. The old way of focus – lock – recompose is indeed a thing of the past, you now have compose – focus, and that means your composition should improve too. Aperture priority with auto ISO and you are pretty good for most things.
That said, these are truly great cameras, I already rate my EOS R6 above my EOS 5D Mark IV for the photography I do.
---
Canon you can make these cameras even better
Hey Canon this is for you. After using the cameras for a while I've determined that me and other photographers would benefit from a couple of additional programmable features for EOS R5 / EOS R6 autofocus controls. What's more I am convinced you can do this with firmware?
Here's my request…
Switching between face detection with auto and user selected initial AF point
When I'm using face detection AF with or without Eye AF the camera is very good at finding the subject. However when it doesn't I have found that switching to manually chosen initial AF point really helps it to focus when auto selection of the subject is failing. Backlight portraits where the subjects face is really dark are the usual one for me.
I also heard feedback from people shooting wildlife that they would like to choose where the camera starts looking for faces / eyes when the subject is amongst the trees or in long grass. Fortunately there is a feature in the AF settings to allow that, Initial Servo AF pt for face detection. I want to have the ability to switch between AUTO and a chosen point with a button, not a dive in the menu.
Whilst a similar function is available in several DSLR cameras I never had much change in my results as I rarely used all the AF points in the cameras. With the EOS R6 that's changed.
Switching between people / animal subject detection with a button not only via the menu
I think there should be a way to switch between animal and human face detection.
My current workaround is to put both these settings on a My Menu screen, so I find them quickly. I would love to be able to put them on a button. Movie, depth of field preview, AF-ON, AE-lock, M-Fn or the light button on the R5 are all candidates.