When EOS cameras started to be equipped with many AF points, Canon made it possible to group several AF points together in an AF area or AF method. I think this is one of the most misunderstood choices for autofocus settings.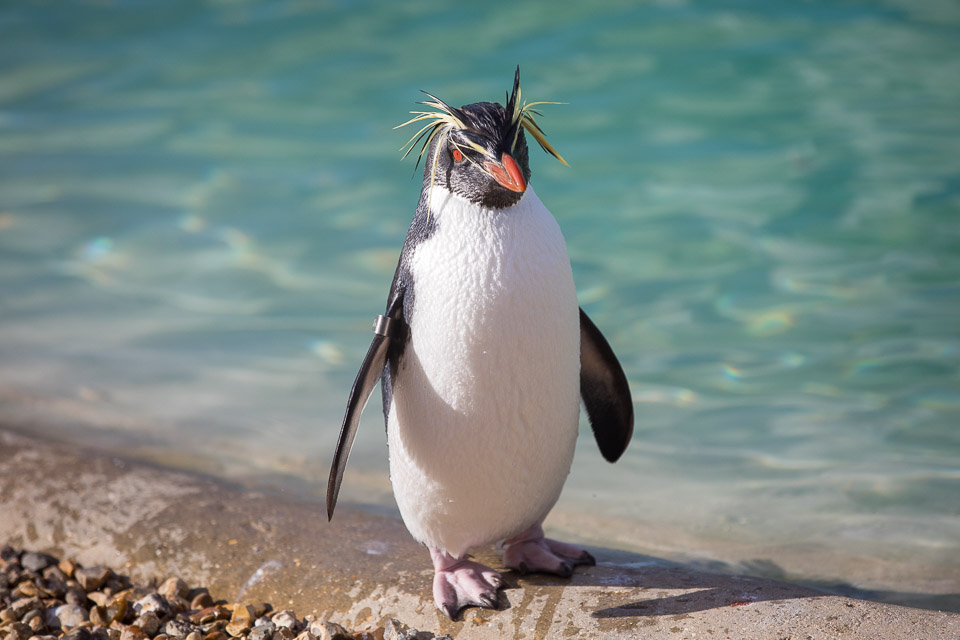 AF area / AF method
EOS cameras with groups of AF points used the term AF area, but for recent cameras Canon used the term AF methods. The two terms can are interchangeable in the context of this article.
Entry level EOS cameras with few AF points have just two settings, a single point and all the points. While all AF points being used is helpful when you don't know here in the frame to focus on the subject, the downside is you look at the intended subject and the camera spots something elsewhere that is closer to the camera and focuses on that. The solution seems to be choose the desired point for focus, a single AF point. Largely this works for static subjects, but as things get more fluid and movement is involved a different approach may be needed.
Grouping several AF points gives a bigger AF target to cover the subject, but not the "it's somewhere out there" approach of using all the AF points. Of course there are photographers who are absolute experts and can use 1 AF point and keep it on the required part of their subject regardless of how and how fast it moves. For the rest of us a few AF points in a group is helpful.
AF areas don't move by themselves!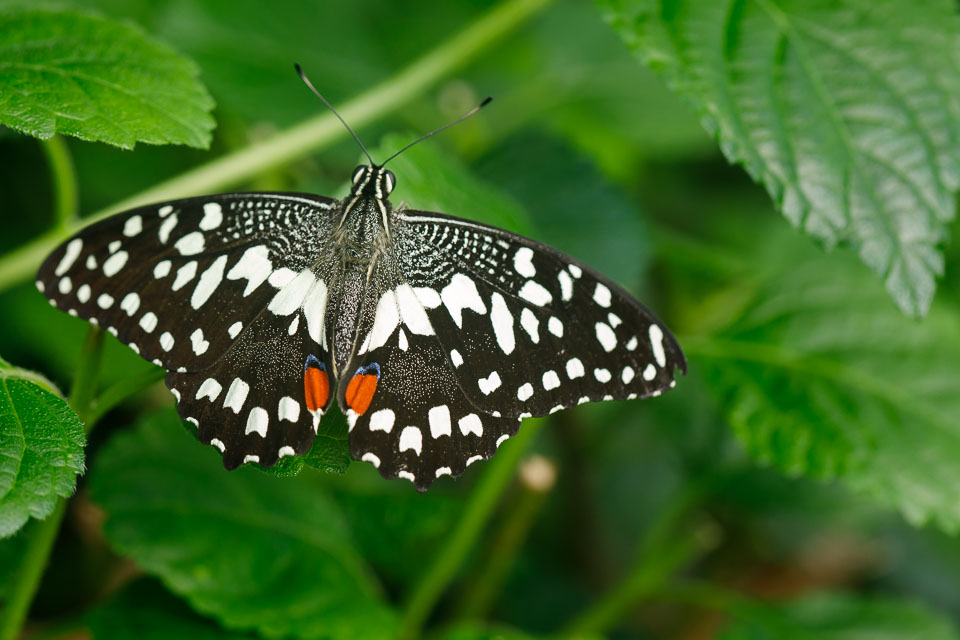 When you select a group of AF points, the camera won't ever move the group as a whole to another part of the frame for you. That's your job, and you can either move the camera to keep the group of AF points on the subject, or use the multi-controller "joystick" to move the group of AF points. At workshops over the years I've learnt that this is probably the biggest misunderstanding about AF methods.
AF areas / methods explained
I've worked through the EOS 80D, EOS 7D Mark II and EOS R6 to give a comprehensive list of AF areas and methods that exist.
1-point AF / Manual selection 1 pt AF
As it says, you have one AF point, you need to position it on your subject and it will focus there. It's good for lots of static photos, buildings, landscapes and portraits. For DSLRs the points near or at the centre usually have a high precision mode of operation when using lenses with f/2.8 or faster apertures.
Spot AF
Spot AF is like 1-point, but the AF point sensitive area is even smaller, making it ideal when you want to be super precise where the focus is. Also can help you get between the bars of a cage at the zoo. There can be a drawback for DSLRs in that the spot AF point is less able to detect rapid change of subject position, or quickly lock on to a significantly out of focus subject.
Expand AF area / Expand AF area: Around
This is like a single AF point, but there's some assistant AF points around the outside, either four in a cross shape, or eight to give a larger group. The important part to realise is that you still have to initially focus with the point at the centre of the group, and then the other points come in to play. Trying to focus a single point on a flying birds eye is as difficult as using a single AF point. But once you have the subject in focus the additional AF points become active and will be used to keep tracking your subject if the initial AF point is not able to keep focus. You can and probably should move the expanded AF area around the frame to best focus on the subject, but the camera won't do that for you.
I had some success using Expand AF with the EOS R when shooting motocross, but rarely used it on my DSLR.
Zone AF
Zone AF groups several AF points together to make an AF area that is larger than a single point, but not too large. The number of AF points in the zone varies by camera and sometimes the central blocks has more points too. Remember that all the AF points within the block are actively looking for initial focus. In effect you've got a bigger AF point that makes it easier to get on top of a moving subject. Again the camera cannot move the zone if your subject moves outside of it, that's your job.
The one may look like a block of 9-points similar to expand AF area around, but the difference is that all AF points in the zone are active for initial AF. Some cameras offer several sizes and shapes of AF zones. I generally found that zone AF worked well on the EOS 5D Mark IV and EOS 7D Mark II for rally cars where you can aim the block of AF points at the top of a jump and wait for the car to appear. I have also had some success with birds in flight.
Auto selection
DSLRs have this where the whole AF area is active and looking for the closest subject under any AF point. If the subject moves, the AF points will change to follow it. Remember your camera may have the option to set an initial AF point for auto selection when using AI Servo AF. This means that AF must be achieved with the selected initial AF point then all the rest become active a bit like expand AF area but with all the available AF points.
Face + tracking
This is the mirrorless EOS cameras version of auto selection. The whole AF area – most or all of the picture – is the AF area. Faces are located and tracked, and on the EOS R5/6 this is so good that I can use Servo AF and recompose my shot once the face has been found! Cameras also have the option to select Eye AF where the focus area automatically reduces to the closest eye for even more precise focus. If there are multiple faces identified you can move between them to choose the one you want.
Refine your AF area options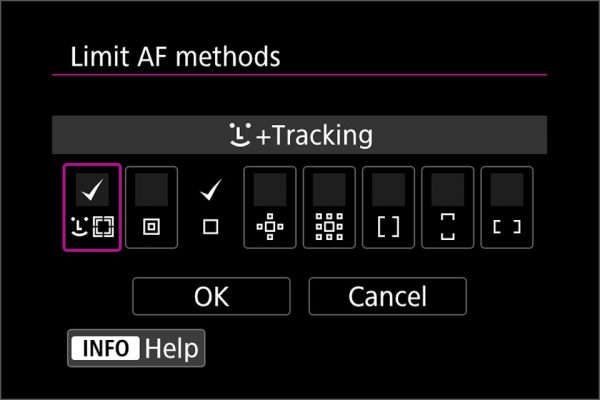 You are unlikely to need all the different AF area/methods for your chosen photography genres. With a DSLR I'll typically use the Zone AF for action subjects, and 1-point AF for portraits and static subjects, with a mirorless EOS R or R6 then it's face + tracking and 1-point AF. I make it faster to switch between the methods I normally use by disabling all the rest. To ensure I don't use an inappropriate AF area/method or mix up the visually similar zone and expand AF I only re-enable other modes on limited occasions. In effect I'm blocking myself from inadvertently using the wrong settings on a shoot.
---
Your next steps
If your camera has lots of different AF areas, then think about which ones do you always use, and which have you never used. Quite possibly you'll find that making the ones you don't ever use unavailable will mean your camera is faster to use the way you want. That's what the ability or limit the AF modes is for.
If however you've discovered that you've been using AF point with expansion, when zone AF might have been a better solution, maybe turn off the wrong settings and benefit from more in-focus shots and faster camera operation too.