RF lens control ring was one of many new features of the EOS R camera system and there are many possibilities for how to use them. In this post you will learn what the settings are and how to make effective use for your specific imaging needs.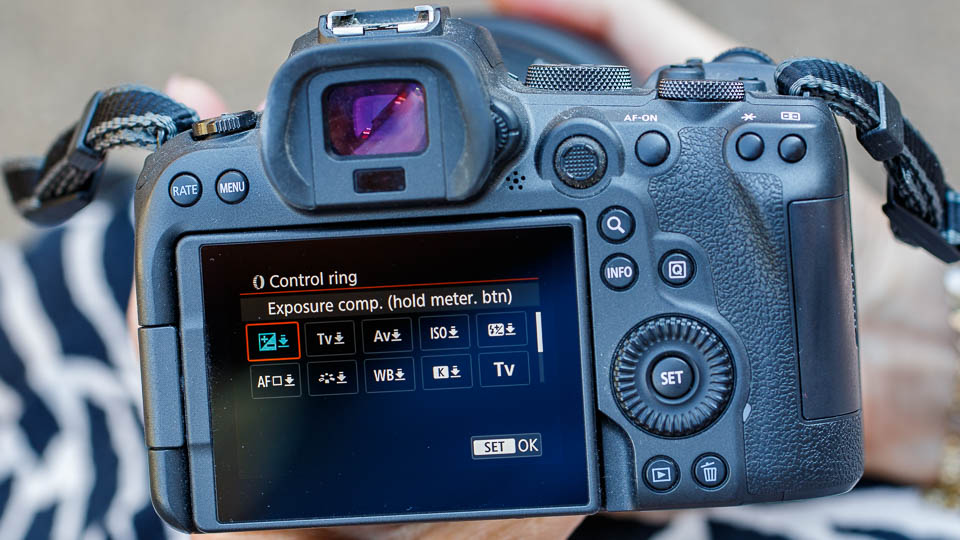 From the first time I held an EOS R camera with the RF 24-105mm F4L IS USM lens I wondered what the extra ring on the lens was going to be used for? The answer was that it was configurable, and it was up to me to choose.
RF lens control ring
When I started using my EOS R I was still using my DSLRs and that meant that EF lenses would be retained are they worked on both systems. I had only the standard EF-EOS R mount adapter so had little interest in control ring settings at the start. When I started to add RF lenses to my kit with the EOS R6 I looked at what I could do with the lens control ring.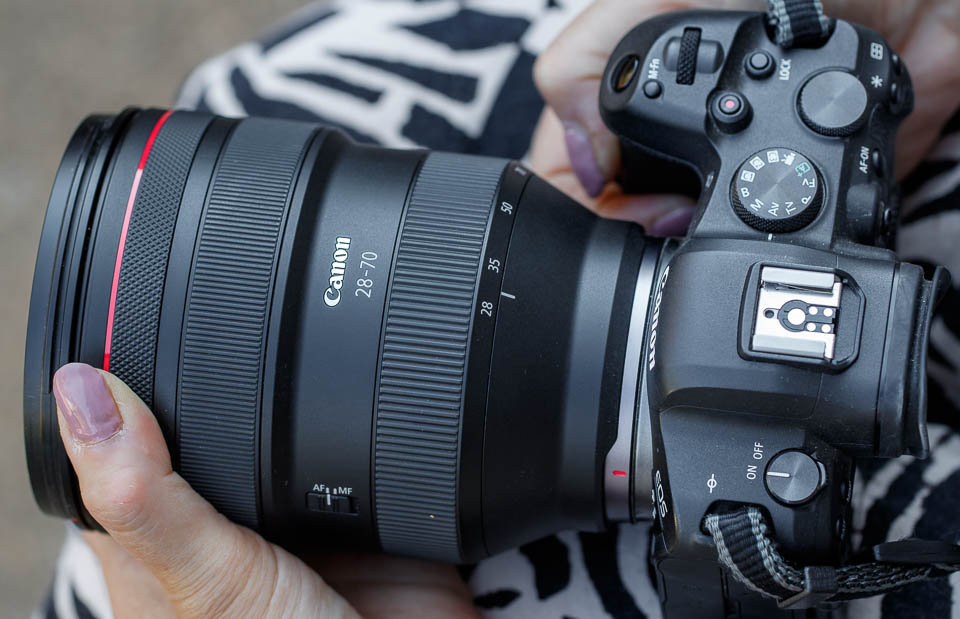 RF lenses come in a range of sizes, including the chunky RF 28-70mm F2L USM to the tiny RF 16mm F2.8 STM. Smaller compact lenses may not have an obvious control ring, but have a switch to change the focus ring to a control ring function. The AF is so good, that control ring is possibly more useful than a focus ring for many photographers.
There are a few lenses without a switch, like the RF-S 18-45mm F4.5-6.3 IS STM, so then you need to look in the camera menus for a setting to switch the ring from focus to control.  The AF is so good, that control ring is possibly more useful than a focus ring for many photographers.
EF-EOS R mount adapter with control ring
More recently I've added an EF-EOS R mount adapter with control ring to my kit, and that means that all of my EF lenses have gained control ring functionality. I often find I use it more than with RF lenses since the control ring is in the same physical location regardless of the EF lens being used.
How to customise lens control rings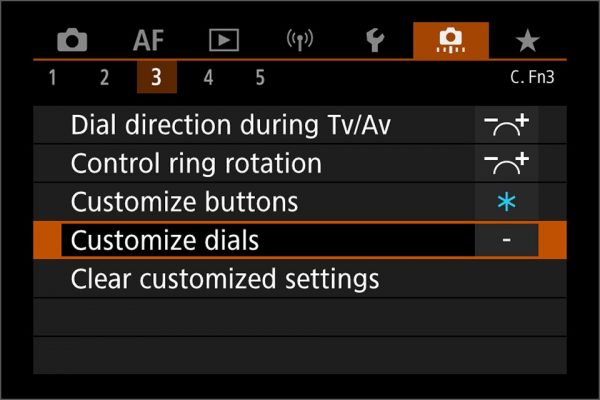 You need to head in to the camera menu, and select Customize dials, this will then show the dials that can be customised on your camera, and lens control ring is always present.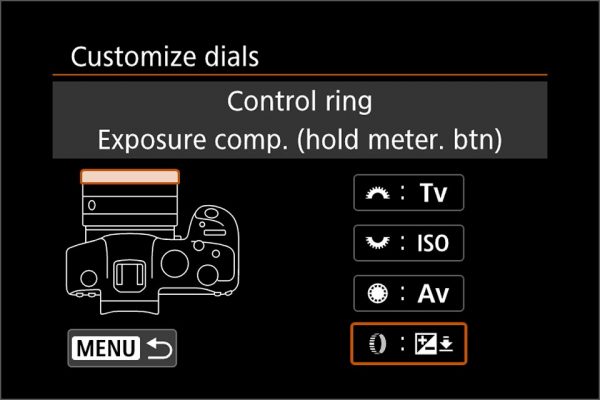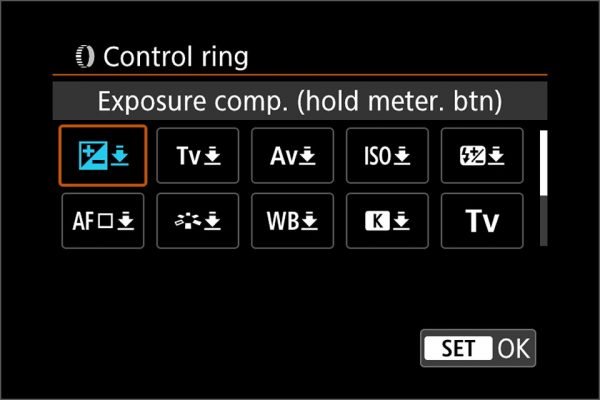 The default assignment for the control ring is exposure compensation while the metering button is held. Conventionally the "metering button", is a half press of the shutter button, or the AE-lock button (* button) on the back of the camera. So half press the shutter and the lens control ring can be used to dial in exposure compensation when needed.
I use my EOS R6 in manual exposure mode with auto ISO a lot of the time, so with the default setting I have four individual controls to access the settings I need. I use the main dial to control shutter speed, quick control dial 1 for aperture, quick control dial 2 for ISO and the lens control ring for exposure compensation.
Change AF area / method
I have heard from several photographers that they have been using the control ring to switch AF method. I prefer to toggle of AF methods with the AF point selection button, but if you have many choices of AF method the control ring allows you to move quickly backwards and forward through the available choices.
Change white balance or Kelvin temperature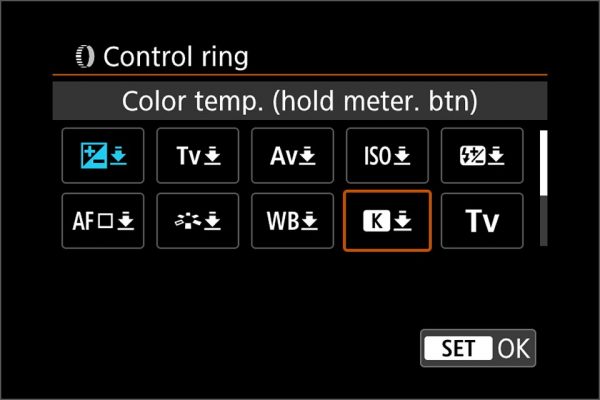 When shooting movies it can be important to maintain the white balance from shot to shot, so either custom white balance or Kelvin white balance is used. While changing from one white balance to another can be assigned to the control ring, it may be much more useful to assign colour temperature as this is a setting that is more difficult to directly access on the camera menu without several operations.
Direct access without half pressing the shutter
If you would like instant access to the function assigned to the lens control ring, there's duplicated settings that don't require the shutter to be half pressed. Note the half-press icon is missing. The risk is that inadvertent movement of the control ring changes settings unexpectedly. If so you might want to use the camera multi-function lock settings too.
Control functions are more restricted on older EOS R series cameras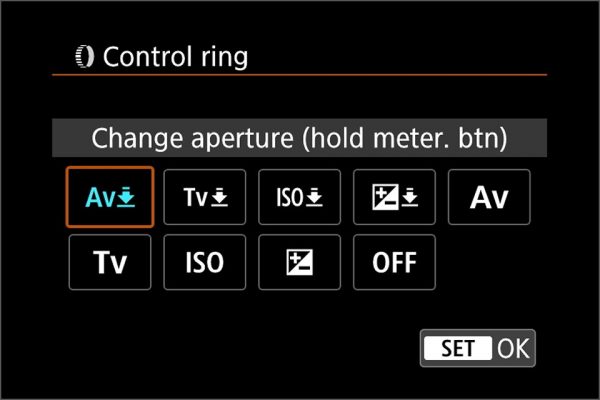 This is a screen from the EOS R which has less choice than the more recent models. EOS R and EOS RP only allow aperture, shutter speed, ISO and exposure compensation to be assigned to a lens control ring.
---
Using the multi-function lock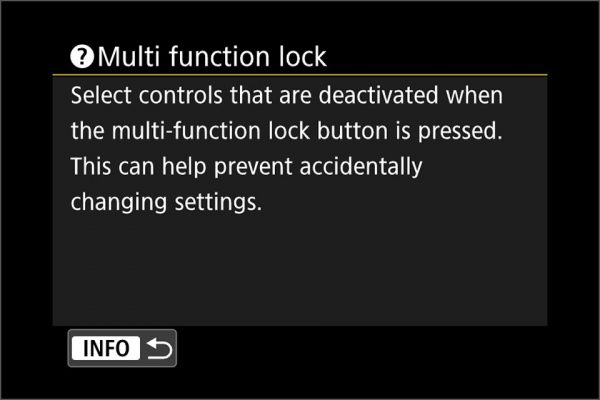 Cameras with a lock switch or button can be configured to lock a range of controls including the lens control ring. This provides a way to temporarily disable the control ring, and might be useful if you configure yours to change settings directly without the metering button being pressed.
On this camera the lock button is configured to lock both quick control dials, the touchscreen and lens control ring.