Day 7 of the 12 days of photos brings a set of street photography pictures taken around London's Leicester Square.
I have hosted and joined a few photowalks over the years and found them great ways to meet up with other photographers. Stephen Cotterell was the host for the walk that started in Leicester Square and headed off in to China Town and Soho. Street photography is not something I do often, so I decided to travel light and used just two lenses on my EOS R6; EF 40mm f/2.8 STM pancake lens and EF 85mm f/1.4L IS USM. I expected that I'd create black and white images from the shoot, so set the camera to monochrome picture style for a black and white preview on the LCD and EVF.
I worked with manual exposure and auto ISO choosing shutter speed to avoid subject movement blur and aperture close to wide open. Eye AF worked its usual magic and I often found myself choosing an initial AF point for the face tracking as a way to choose a specific person in the street.
I quickly moved away from Leicester Square in search of something different, and soon I was rewarded with this fine gent sitting on the steps of number 10. From this early shot I decided that my approach was street portraits and that I needed a clear human subject in the shots.
EF 40mm f/2.8 STM
1/250s, f/2.8, ISO 500
There were many food delivery riders all around and some were completely oblivious to me, others definitely knew I was taking their photo.
EF 40mm f/2.8 STM
1/250s, f/2.8, ISO 1000
Looking for a more typical China Town setting I waited by the entrance to this street, watching people as they walked along with the crowd. I did see quite a few other photographers not part of our group, who were trying something similar. These two were walking towards me and I took two shots, the first is before the woman saw me and lacks the connection of this one. I liked her smile of acknowledgement that she was the subject of the photo, I only noticed the ice cream on the face of the guy when I edited the shots.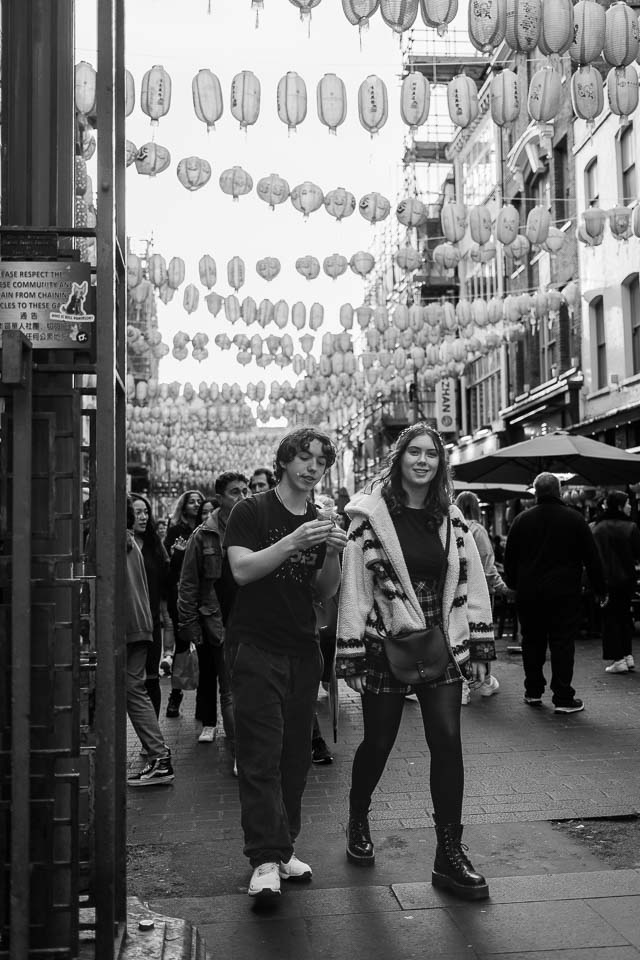 EF 40mm f/2.8 STM
1/250s, f/2.8, ISO 100
Probably breaking all the street photo code with this next shot of one of the other photographers who joined our photo walk.
EF 40mm f/2.8 STM
1/80s, f/5.6, ISO 125
Moving on to Soho I spotted these two walking towards me, probably due to her interesting tights. As soon as they passed by it was obvious what my shot had to be. Lettering is generally distracting but for me this is an important part of this picture.
EF 85mm f/1.4L IS USM
1/160s, f/2, ISO 160
Initially this next shot drew me because of the colour and pattern combination of the building artwork and this guy's shirt, but when I looked through the camera it worked better being about patterns than colours. I liked the matching patterns of his checked trousers with the pavement and the shirt with the wall art.
EF 85mm f/1.4L IS USM
1/160s, f/2, ISO 200
This last one of the girl with the cello was framed between a couple of the people from our photo walk. The combination of distance and wide aperture throwing the foreground and background well out of focus and framing the fire at the same time.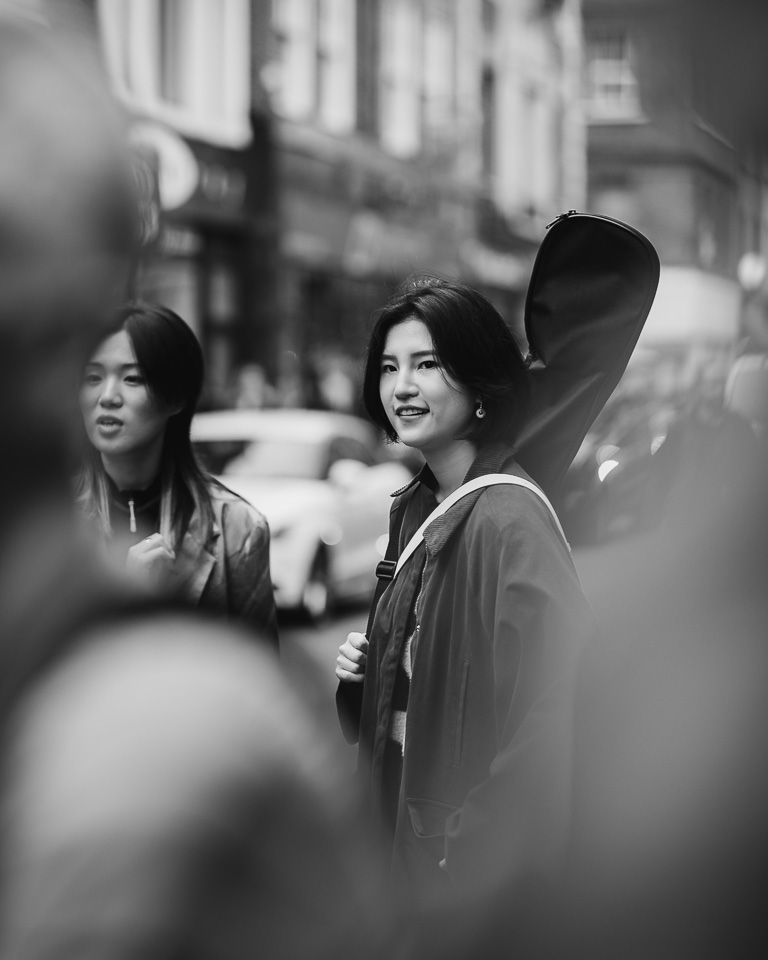 EF 85mm f/1.4L IS USM
1/160s, f/2, ISO 250
Day 7 of 12 done, see you tomorrow for some more photos.