EF 85mm f/1.4L IS USM is my new 85mm lens, it has replaced my RF 85mm F2 Macro IS USM.
I've owned a Canon 85mm lens since the early 1990s, and it fair to say I loved my original EF 85mm f/1.8 USM. That lens is the only one that I owned before I started  working for Canon, and still owned when I started to work for myself here at p4pictures.com. Remarkably the lens retained it's value over almost 30 years and when I sold it to another photographer it continued onwards.  In early 2021 I wrote that the RF 85mm F2 Macro IS USM had replaced the brilliant original 85mm, and for most of 2021 that continued with a few hiccups. Now the RF 85mm F2 is gone and I have a new EF 85mm f/1.4L IS USM in it's place.
I like the 85mm focal length
A quick search in my current Lightroom catalogue, which has over 100,000 images, shows that more than 20% are taken at 85mm. The second most used focal length is 135mm with just over 13%. So I really do like the 85mm focal length a lot. Most likely the small size, lightweight, fast aperture, snappy focus of my original one meant it was in my bag more than almost any other lens, I could always find space for it.
Over the years I have used every Canon 85mm lens, including the various versions of the 85mm 1.2L in EF and RF mount, but those beasts are just too slow for action, too big and heavy to be part of my kit. Yes they have a use, and when I need one, I would rent them.
EF 85mm f/1.4L IS USM
Introduced in the second half of 2017, the EF 85mm f/1.4L IS USM caught my eye as a potential replacement for my original 85mm lens. It wasn't until I made a trip to Iceland in April 2018 – where I did a flash workshop for the local Canon distributor – that I first got to try the EF 85mm f/1.4L myself. Arriving in Iceland I was checking the venue for the next days workshop and was asked if I needed any kit, they had received a shipment of lenses for an event, and there was an EF 85mm f/1.4L. Problem was I only had it until the following day.
I felt instantly at home with the lens on my EOS 5D Mark IV, and headed out in to a stunning spring Reykjavik day with my buddy JT. Neither of us are the best portrait subjects, but I had the lens on my camera so he was the model. I soon discovered that f/1.4 and bright sunshine means watching for overexposure warnings, even at ISO 100, and I set my camera to allow me to use ISO 50. Wide open at f/1.4 the depth of field is best described as whisker thin. The lens balanced well and it was a sad time when it had to be returned.
Just one month later I joined the Canon UK CPS roadshow events to demonstrate portraits with Speedlites. In Birmingham I was working with Georgia and took a few portraits in between my presentations using another EF 85mm f/1.4L IS USM lens from Canon UK.
Both of these were taken wide open at f/1.4 using natural light, handheld at 1/200s on the EOS 5D Mark IV. I also took a few other portraits with a 400mm f/2.8 because I could.
After that there was a long gap, I kept on with my EF 85mm f/1.8 USM often looking at the price of the 85mm f/1.4L and wondering if I should swap. In 2018 along came the mirrorless EOS R and also the RF 85mm F1.2L USM to add another 85mm choice. One evening late in 2019 I was fortunate to end up with not one, but three Canon 85mm lenses and a model to photograph. I had my own EF 85mm f/1.8 USM, plus EF 85mm f/1.4L IS USM and RF 85mm F1.2L USM on loan for 24 hours.
Lighting with just a single battery powered LED panel we worked to create a more vintage feel to these shots. It was here that the size and weight of the RF 85mm F1.2L lens was most noticeable, and at f/1.2 the depth of field is so narrow at close working distance that I did shoot a lot at f/2 on all the lenses, which also helped with later comparisons. Time moves on, and a global pandemic curtailed the idea of changing my 85mm in 2020, until the RF 85mm F2 Macro arrived.
Another EF 85mm f/1.4L IS USM test
I took advantage of a special deal at Lenses for hire over the Christmas holidays, and had an EF 85mm f/1.4L IS USM for 21 days. I managed to fit a couple of shoots over the festive period. Firstly with someone who looks a bit familiar 😉
And then just days before the rental was due for return there was a bright sunny day in a week full of rain. I ventured to Oxford for a shoot with another local model outdoors where we had plenty of bright sunshine.
Along came the EF 85mm f/1.4L IS USM
I had decided to sell the RF 85mm F2 Macro IS STM lens, and now I was lacking an 85mm for the first time in almost 30 years. Something had to be done, and the Christmas test results sent me on a search for the best deal. By the end of March my EF 85mm f/1.4L IS USM arrived and was soon on my camera. Fitted to a control ring mount adapter on the EOS R6 it is a perfect partner for the RF 28-70mm F2L USM and EF 135mm f/2L USM even if the idea of a trinity of f/2 lenses is gone. I could restrict the aperture range of my EOS R6 to a maximum of f/2 to give me a trio of f/2 lenses operationally, but I haven't 🙂
I've done just one shoot with my own 85mm f/1.4 lens, but there are several more in the pipeline.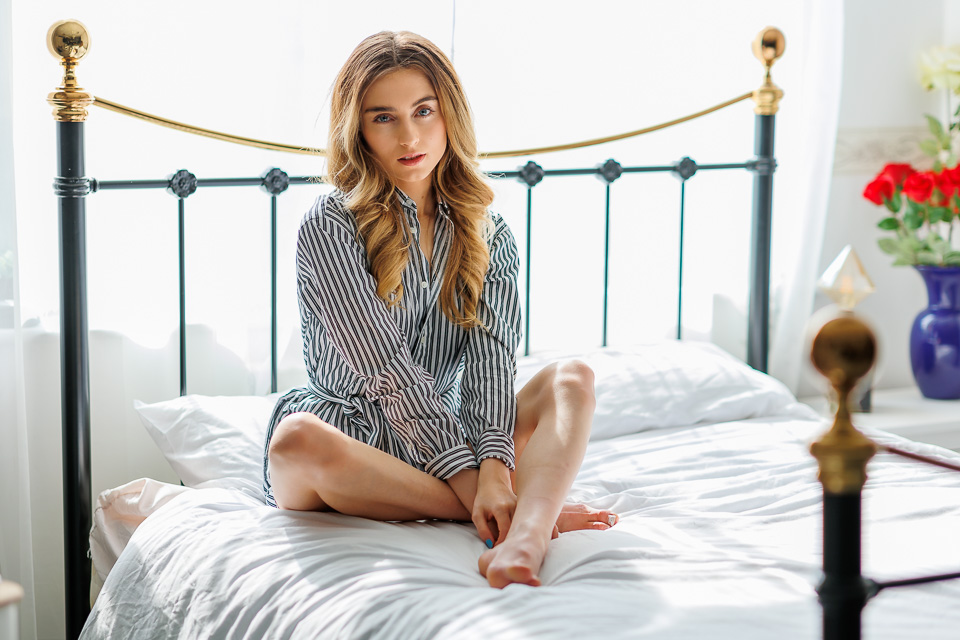 Ultimately I'm happy, I have an 85mm lens that I really like, it's fast, AF jumps around from subject to subject at warp speed, it's silent and it came with a lens hood! The purple fringes of the original 85mm f/1.8 are gone too. It's hard to be objective on a brand new bit of kit, but in many ways I've been testing an EF 85mm f/1.4L IS USM for years, I just hadn't realised it.
---
Why I sold my RF 85mm F2 Macro IS STM lens
Not long after getting the RF 85mm F2 Macro IS USM, I had a problem with it; Err 60 on the camera and the lens aperture stuck closed. A call to Canon and the lens went to Canon service for repair. It was fixed and put back in to service for six months, until it died again with Err 60 showing on the camera and the aperture stuck closed again at the Photography Show in September. Another trip to Canon service for a second investigation and repair, before it was back in my bag again. After two failures the seed of doubt about the dependability of the lens had been sown.
Additionally I was becoming less impressed with the STM focus motor, it just seemed to be smoothly changing focus, not really snappy. Most of my other lenses have USM motors that are designed to rapidly jump from one focus distance to another. For portraits in a studio the RF 85mm F2 was great, but shooting macro with butterflies on flowers was a chore waiting for the lens and seem slower when it's travelling from infinity to 40cm. My solution was to use the my EF 100mm f/2.8L Macro IS USM lens for close ups as it seems to focus on subjects more quickly.
Days after returning the rental EF 85mm f/1.4L lens in January 2022, the aperture on my RF 85mm F2 Macro IS STM failed again with Err 60 on the camera. I took it back to Canon and asked them what they were going to do with a third repair on a lens that was in warranty and been fixed twice before for the same error. The reply was a delivery of a brand new RF 85mm F2 Macro IS STM lens. When the replacement arrived I never even took it out of the retail box. I sold it as unused "brand new" condition. I don't know if my lens was an isolated case or not, but it was gone.