Saving camera configuration to a memory card is one of the most useful features for all EOS R5 owners that's added in the firmware 1.3.0 update.
I'm pretty sure that many people who have the EOS R5 and primarily shoot stills will look at the great new video related capabilities with a little bit of a "so what" attitude, but there's something for them in the update too. You can now back up your camera configuration. This frees video and still shooters to freely experiment with settings in the knowledge that they can return to known working conditions in just a few seconds. If you're in the fortunate position of having multiple EOS R5 cameras you can easily match the config of them too. Or if you rent a camera you can load your config and be ready to go straightway.
Whenever a camera has a multitude of camera settings that need to be optimised for the best results on a specific subject there's always a need to save setups. For most cameras this means using the custom shooting modes, but for the EOS R5 with firmware 1.3.0 and EOS-1D models since the EOS-D Mark III you can save the camera setup to a memory card. It was back in 2015 that I wrote my request for Canon to add saving the setup for my EOS 5D Mark III.
Saving camera configuration settings to a card
Once you've done the firmware update to 1.3.0 on your EOS R5 you'll find a new menu item on the SET UP5 menu screen. It looks just like the menus from EOS-1D cameras with the same capability.
Tap the menu item, or press the SET button to choose if you're saving to a card, or loading from a card.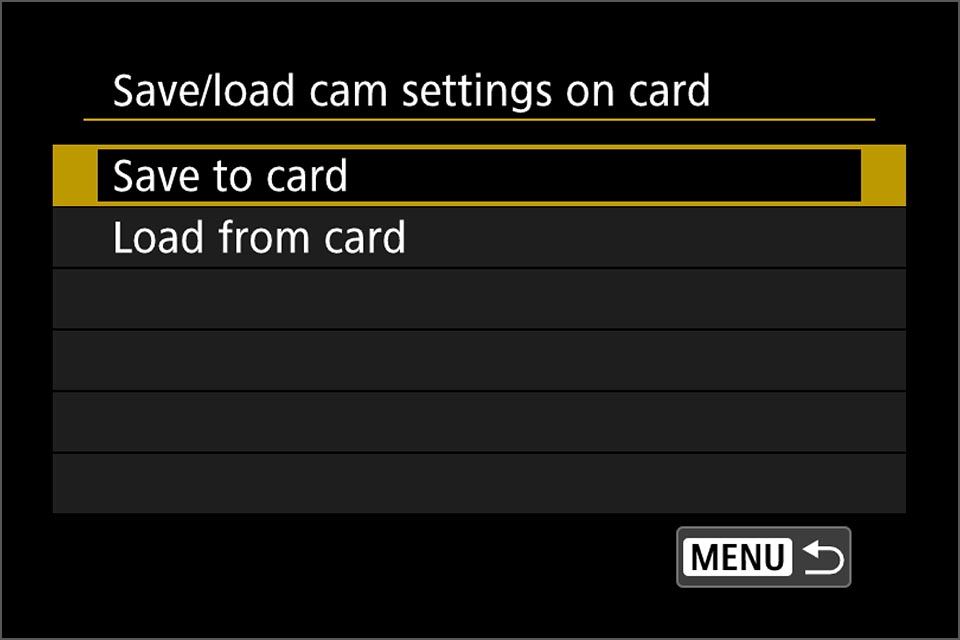 Obviously you can't load a settings file until you save one, so select save to card initially.
Canon has a default naming scheme for the files, that follows past cameras, though by pressing the INFO button you can use a name that makes more sense to you, maybe something with a date, or type of settings being saved. If you change the filename, your chosen name must have 8 characters, anything less is not accepted.
Your settings file is saved to the root of the currently active card, and here I was using the CFexpress card. If you want it on another card you'll need to change card before starting the save process. Files are not very large, the one I made was 394KB in size. With the card in your computer you can rename the file, as long as you keep 8 uppercase characters in the filename and don't movie it from the root folder. You can also have multiple configuration files on the same card, this is where the naming becomes more useful.
Loading stored settings from a card
Restoring saved settings from a card is similarly straightforward. Choose load, select the file on the card, hit OK and then wait for the settings to load. I takes just a few moments for the settings to install, and they will replace all  other settings in your camera. There's no way to restore just a part of the configuration.
Hey Canon, please, pretty please, add this to the EOS R6
Now as an EOS R6 owner, with essentially the same range of settings as the EOS R5 I really want that "save to card" feature for my camera. It would be so good to be able to reset my camera to defaults prior to a training session knowing that it was so easy to get my optimised config back after the training.