Welcome to 2021, I truly hope for a a better world this year. However I still have a few photos to share from 2020… when being creative and making pictures was so important.
Todays photos feature Millie, who I've worked with on many workshops over the last few years, but we hadn't actually done a shoot together in absolutely ages. I arranged a loan of the RF 28-70mm F2L USM lens for a few days, and asked her to join me for an outdoor shoot one evening.
EOS R6
RF 28-70mm F2L USM
1/250s, f/2, ISO 160
When you have a lens that goes to f/2, you shoot at f/2 a lot. Whilst many people think of bokeh as something to do with backgrounds, it also applies to foreground elements that are out of focus too. I tried to add depth to my shots by composing with out of focus foreground as well as backgrounds. Even with the sun in the frame and a back lit subject it was almost a challenge to get lens flare, at one point I took the lens hood off to try and create some.
EOS R6
RF 28-70mm F2L USM
1/250s, f/2, ISO 200
One in the woods and under the trees the lower light levels and colour tones meant that a flash would give a different feel to the results. I used a single Speedlite 600EX-RT in the Lastolite Ezybox Speed Lite 2, and added the CP-E4 battery pack to give even faster recharge times as I expected I might need to use high speed sync more with such a fast lens. Behind the scenes shot is just below.
EOS R6
RF 28-70mm F2L USM
1/400s, f/2, ISO 400
After the flash shots in the woodland we packed and headed back to the car park and to try out another idea I had.
EOS R6
RF 28-70mm F2L USM
1/200s, f/2, ISO 100
Initially I shot using the available light, f/2 aperture helping out with the look and the falling light levels.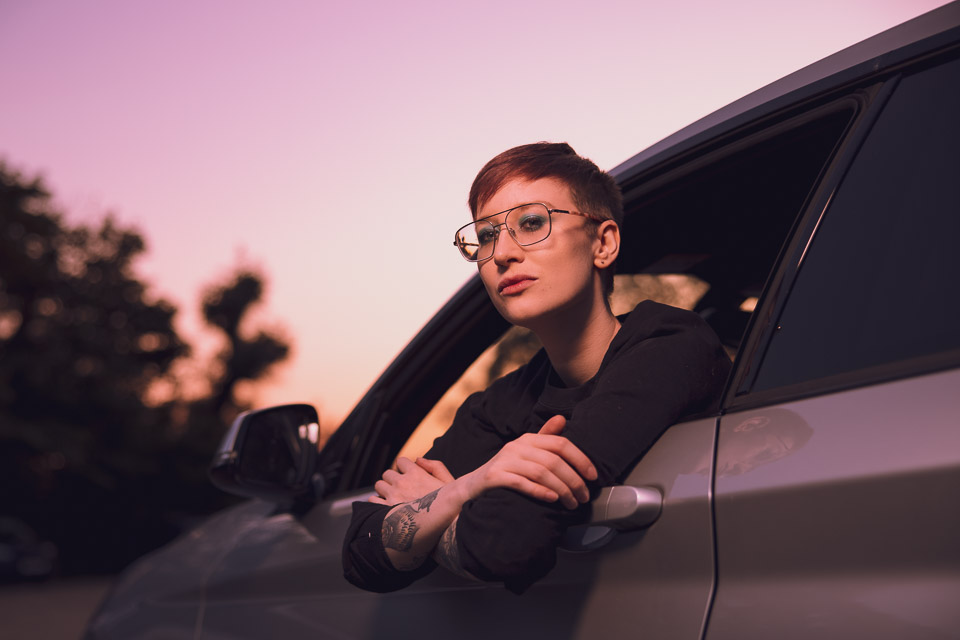 EOS R6
RF 28-70mm F2L USM
1/320s, f/2.2, ISO 100
As the light continued to fall flash was again used to independently light Millie and the scene to give an even later in the day feel to the shots. I still wanted to shoot at or near wide open, so the shutter speed was hovering around the high speed sync zone. I usually leave HSS active on my ST-E3-RT trigger so I can use HSS whenever I need.
Lighting again with the Lastolite Ezybox Speed Lite 2, but this time it also has the grid fitted to restrict the spread of the light.
EOS R6
RF 28-70mm F2L USM
1/320s, f/2.2, ISO 100
I had last really shot with the "big old beast from the East" aka RF 28-70mm F2L USM in January 2019, and now on the R6 I discovered the real quality and capability of the lens. After much soul searching, piggy bank smashing, and a loan of the RF 24-70mm F2.8L IS USM for comparison, I purchased the lens I thought was too big as I just loved the images. You'll see more from it in 2021.
You may have realised that I've been experimenting with toning and creating profiles in Lightroom, hence the different toning in similar pictures. I'll share a little more about soon.
If you are in the UK, remember that you can loan EOS cameras, EF and RF lenses to evaluate via Canon UK's 48-hour test drive scheme.
See you tomorrow for the final day of 12-pictures for Christmas…