Discover how I use EOS R custom controls to make every single remaining button do something useful for my kind of photography. 
This is the third and final step that details how my EOS R camera has had it's operation refined to suit the photos I make. I've grouped all these miscellaneous button functions together, but you might only choose to implement one of these for your way of working.
EOS R custom controls / button for flash settings
If you haven't realised that I like to use my Speedlite a lot, you need to take a long look through my website. One of the easiest ways to start configuring multiple off-camera flash is using the menu on the camera. Invariably I setup a quick access button to the flash settings screen. Then I can use the EOS R touch screen to easily and rapidly make changes rather than have to do it all from the transmitter or flash on the hotshoe.
There are multiple buttons that can be assigned the flash setting function, but I have chosen the top LCD panel illumination button. I'll be honest and say the top LCD status screen is not something I regularly refer to, and in dark conditions I have the EVF or LCD to show me the data that is on the top screen.
Head in to the camera menu and navigate to C.Fn4:Operation menu, then choose customise buttons.
Scroll down the buttons for still images until you reach the LCD panel illumination button. This is the one that will become the external speedlite flash settings button.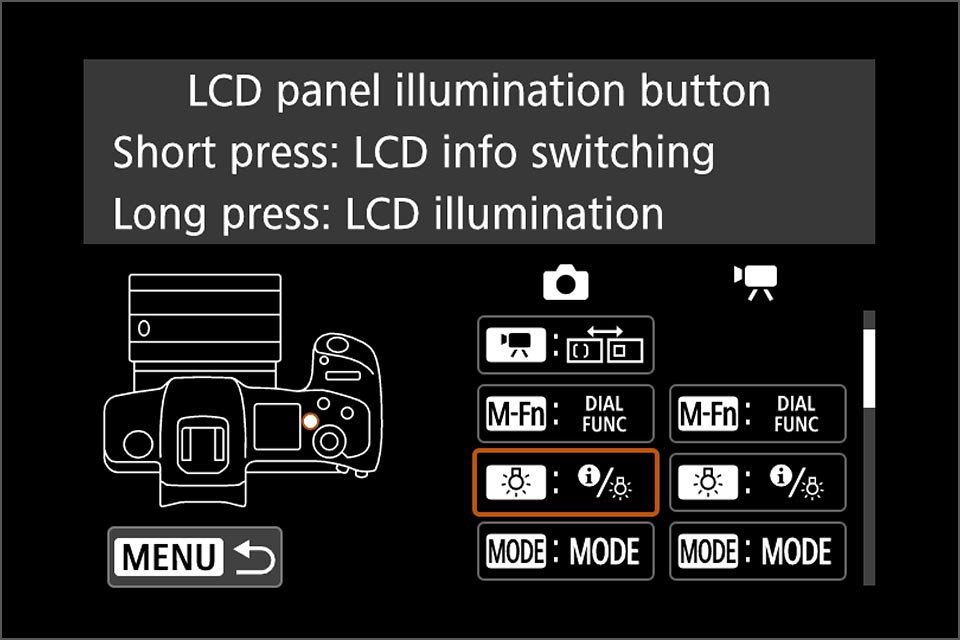 There's a whole set of functions you can assign to this button, and I use the Flash function settings.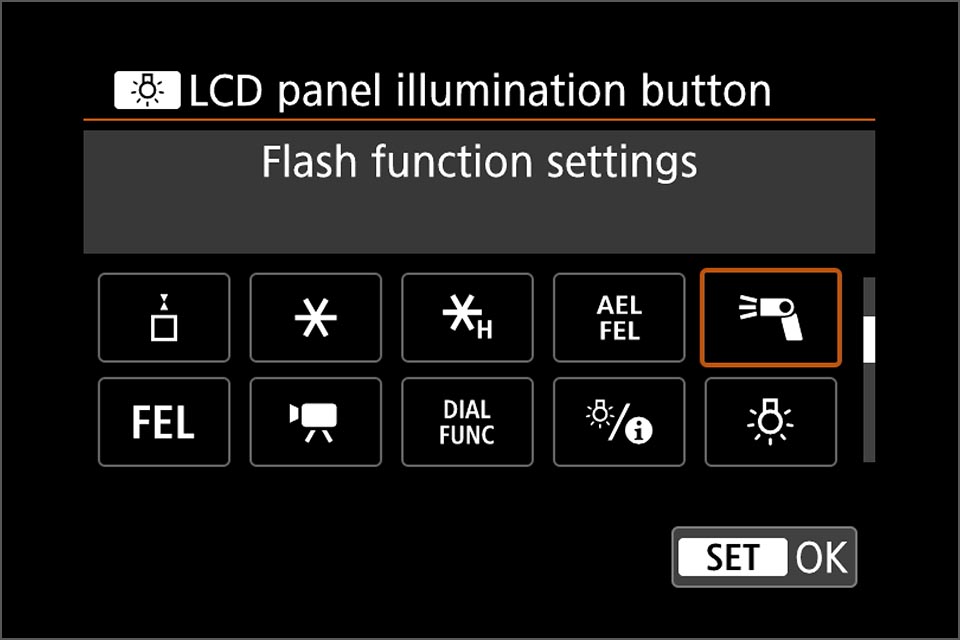 Once you've done this, and pressed SET, you are all done. Now whenever you need to access the flash settings for your flash or transmitter you can simply press the light button. I chose this button as the light icon is a good visual clue that this button is all about light settings.
---
Dedicated flash exposure lock button
I use Speedlite flash a lot in my work, and I sometimes need a flash exposure lock button. Since I primarily use manual exposure I chose to repurpose the AE-lock button as my dedicated flash exposure lock button.
Setup this EOS R custom control by navigating to C.Fn4:Operation menu, then choose customise buttons, then scroll down to the AE Lock button and change it for flash exposure lock.
One thing I like about the EOS R, is that when you use flash exposure lock a grey circle appears at the centre of the screen to indicate that the exposure is being measured there. This is because all EOS cameras with E-TTL II metering automatically switch to a flash spot meter at the centre when you use FEL.
---
Adding a depth of field button
One of the buttons that is not on the EOS R is a depth of field button. Normally on my DSLR I use the depth of field button for it's secondary function, firing the modelling flash of my Speedlite. However on the EOS R and EOS RP, depth of field no longer triggers the modelling flash. The manual says nothing on the topic, but I have empirically proven that there's no modelling flash possible with EOS R system cameras.
However depth of field preview is actually quite usable on mirroless cameras as you do see the effect and the screen/viewfinder doesn't go dark in the process. For my use the otherwise unusable AF-ON button was my chosen button to reassign as depth of field preview.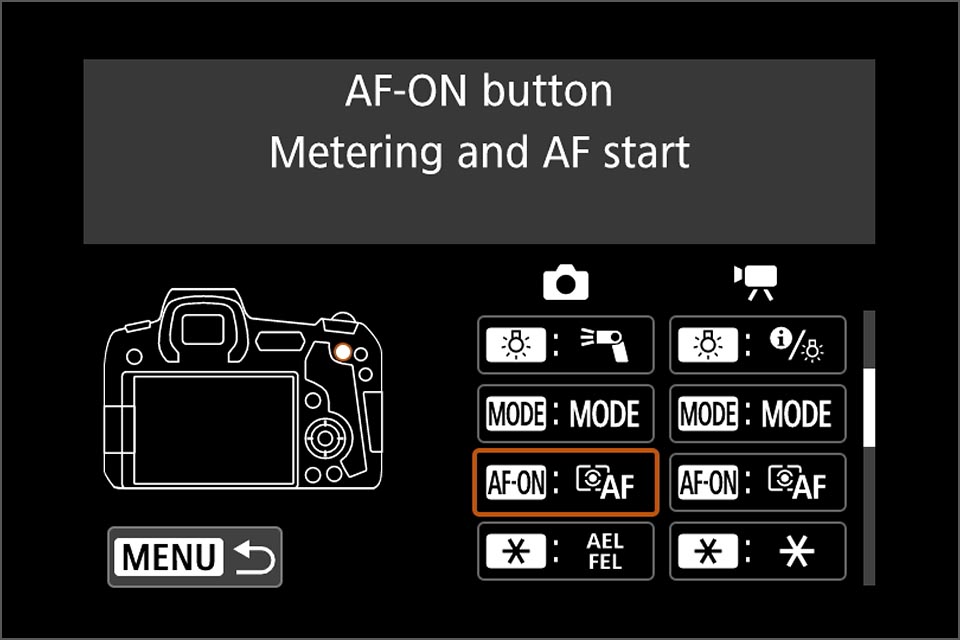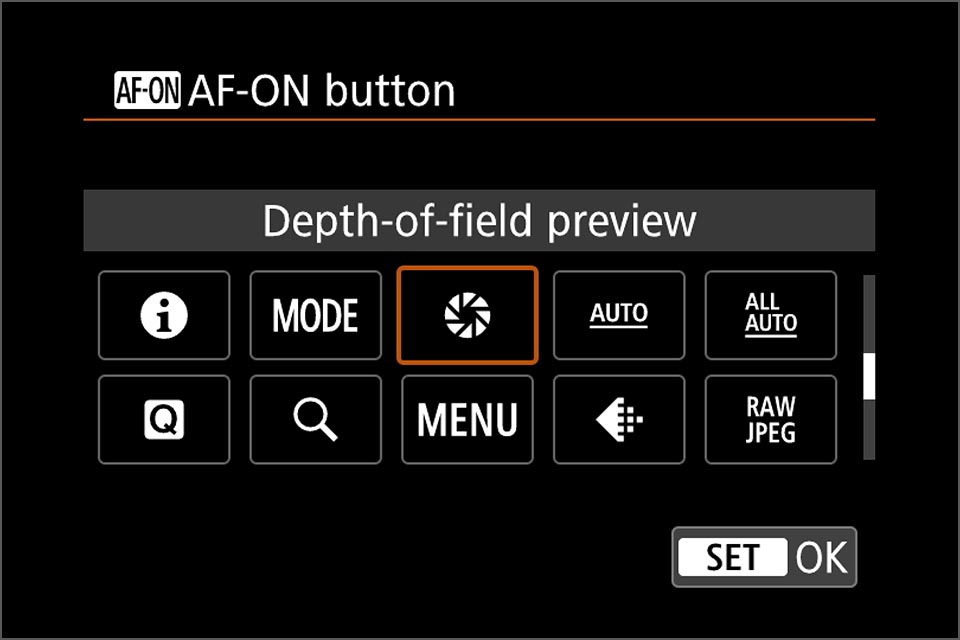 If you do need a modelling flash the workaround is to turn the camera off, and either use the test button to trigger the modelling light, or use a button on a receiver / slave flash.
---
Switching between viewfinder and EVF
Sometimes I like the automatic switching between EVF and viewfinder, and then other times I don't like it. I've been round several ways of making this a pain-free process and I can't find one. If I choose to manually switch I look through the viewfinder then get frustrated when I press play to review images and they don't appear on the LCD. If I use the LCD, like on a tripod auto switching is a pain as I cover the sensor on the way to reach the screen and that switches the display to the EVF.
I don't have a good solution yet. What I have done is add Display settings on the first line of my first My Menu screen, that lets me easily choose if the switching is automatic or manual. Once in manual I use the cross key up button to switch between the two displays. I think I'd really like a "DSLR-like" way where I can choose to playback images on the LCD and always have a live EVF.
Ultimately I'd rather have automatic/manual switching on a button swell, but the my menu hack is the best I could do.
---
Focus guide
For those times when you want to manually focus, the EOS R has two aids; focus peaking and focus guide. I have found that my tilt-shift lens has seen a lot more use with my EOS R as focus peaking helps a lot. I leave focus peaking enabled all the time, it only appears when I use manual focus, or manual focus lenses.
The focus guide is a neat little aid to further aid manual focus. A combination of an AF point with arrows to indicate when you are in focus and a visual clue to indicate if you are focussed in front of, or behind the subject. Sometimes I find it a little too obtrusive, so having a button to toggle it on/off is good. This is the last of the four cross key buttons I can use with my EOS R custom controls, the down button.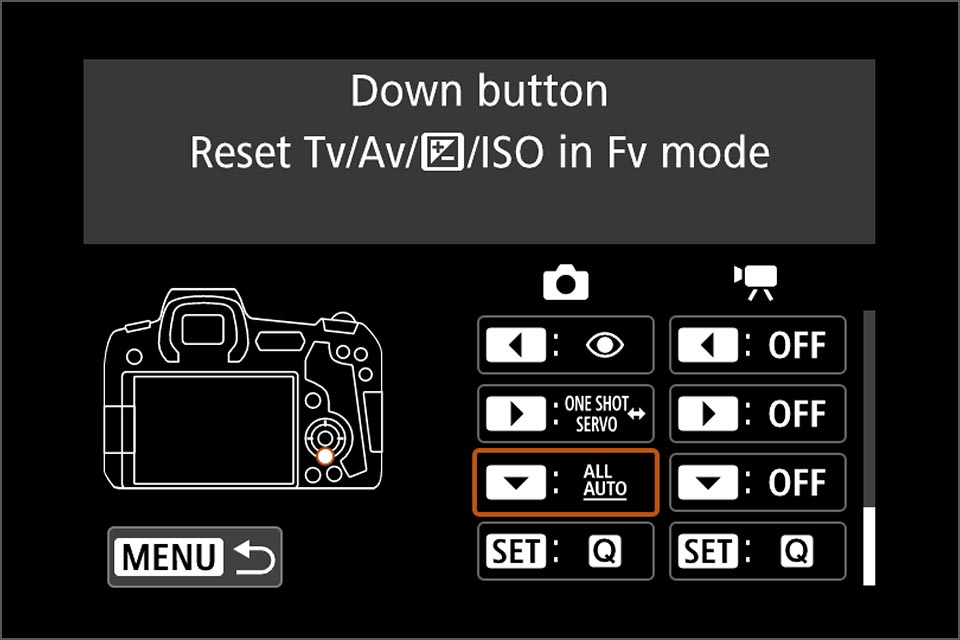 ---
You may think I'm mad, and how do I remember all these customisations. The reality is that I needed to find new ways of working with the EOS R and so working out the functions I wanted to use, and getting them easy to access on buttons I could reach was the solution. I didn't just sit there with the manual and come up with this complete set, it's been a process of iteration and has finally led me to this point. I now feel that my camera does what I need and I can use the controls. Everyone else who picks up my camera struggles with it as it's so different from what they expected.
This is the third and final part of my customised buttons on the EOS R, take a look at some of the earlier ones too.
Part 1: Simplifying the M-Fn button
Part 2: Fast access to EOS R autofocus settings
Part 3: Miscellaneous customised buttons (this one)