Wow 2019 sure flew by, and I pressed the shutter button more than ever. So let me share a favourite picture or pictures as we finish 2019 and head in to 2020.
Day #1
It's been a strange year, and I have certainly used my EOS R mirrorless camera far more than I ever expected. When I first got the EOS R late in October 2018, it sat in the shipping box until January 2019. I'd had a few EOS R cameras on loan t write some magazine articles and apart from the plan to run EOS R workshops for EOS Training Academy, I wasn't sold on the camera.
Then came the fortunate chance to get the RF 28-70mm F2L USM and RF 50mm F1.2L USM lenses on loan for a 10 day period. I scheduled some shoots and was off learning how I would work with the EOS R. One of my first shoots with the EOS R and these mega lenses was with Claudia who I shot with on the way to a talk for a camera club in South Wales.
EOS R
RF 28-70mm F2L USM
1/200s, f/2, ISO 100
I liked the look of the images with the RF 28-70mm, but boy was it huge and pretty heavy. The f/2 aperture means focus is critical if you shoot wide open, but it is rather good at isolating your subject from the background.
Time to also give the RF 50mm F1.2L USM a try too… needless to say it does an even better job at melting backgrounds, and foregrounds 🙂
EOS R
RF 50mm F1.2L USM
1/800s, f/1.2, ISO 100
Thinking that daylight, even in Wales in January was a bit bright we took a break in a local coffee shop to warm up.
EOS R
RF 50mm F1.2L USM
1/200s, f/1.2, ISO 1,000
Taking note of the daylight coming in through the shop window I asked Claudia to move table a little closer to the light, and thought I'd push the ISO a little more and see how the flare from the lights in the background looked too. I consciously kept the shutter speed high to maximise sharpness, but actually it's well worth aiming for at least 1/125s for any pictures in ambient light with people in them.
Later in the year I was back to Cardiff for a portrait seminar with Canon and Camera Centre UK, and I asked Claudia to model for me again. Canon brought me a shiny new RF 85mm F1.2L USM to shoot with for the day. For headshots with flash I actually shot at f/2 to f/4 for the seminar as otherwise you only get the front curve of a single eyeball sharp…!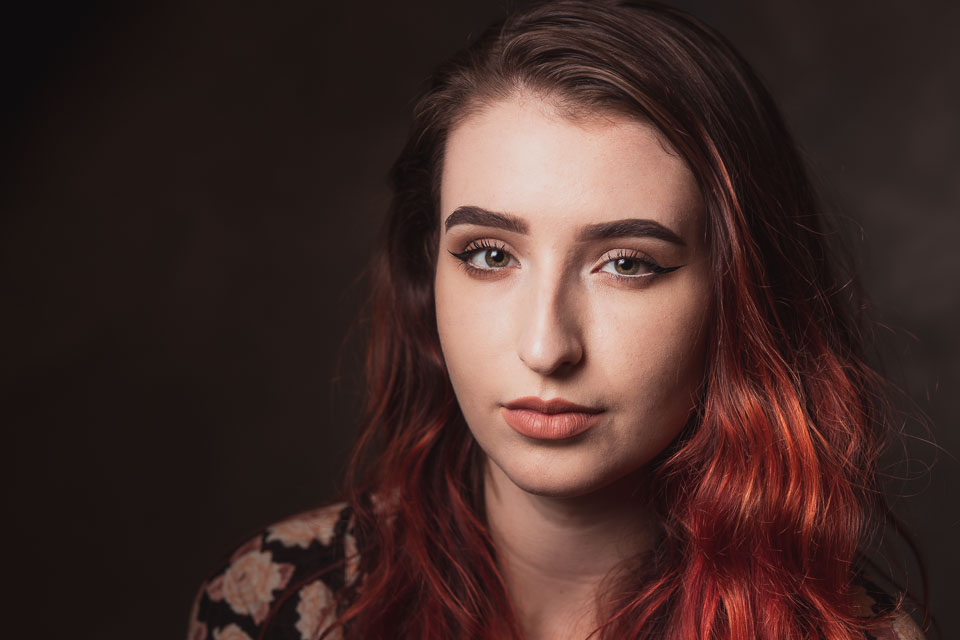 EOS R
RF 85mm F1.2L USM
1/200s, f/4, ISO 100
Off-camera Speedlite flash
After the day's workshop was over I took a few quick shots of Claudia with the RF 85mm F1.2L USM wide open at f/1.2 using some natural light in a nearby space.
EOS R
RF 85mm F1.2L USM
1/320s, f/1.2, ISO 1,000
So that's it for day 1 of 12, Claudia is clearly my "RF lens testing model"… she's been photographed with three of the new RF lenses this year; RF 50mm F1.2, RF 85mm F1.2 and RF 28-70mm F2.
---
Just quick note… I'm struggling to narrow down my selection of pictures to just a single one for each day 🙂