In Birmingham yesterday I was joined by a fine bunch of people for a photo walk round the streets of Birmingham. Here's a few of my photos from the day.
Scott Kelby's Worldwide Photo Walk 2019 – Birmingham Group
A fine bunch of people joined me for the photo walk, and I thank them for doing so. It's always interesting to meet new people with a shared interest in making images. I thought that this year with less than the full complement of 50 walkers it would be straightforward to keep reasonably close together – how wrong I was 🙂
Starting right from the entrance of Moor Street Station we soon headed off for roads less travelled away from the busy shopping areas. The direction was the vibrant area of Digbeth well known for it's street art, graffiti and vibrant cafes and restaurants. Digbeth didn't disappoint as there was a festival going on which meant loads of people all around the area. Street dance groups were performing under the arches on Floodgate Street. Plenty of things to photograph.
Street art in Digbeth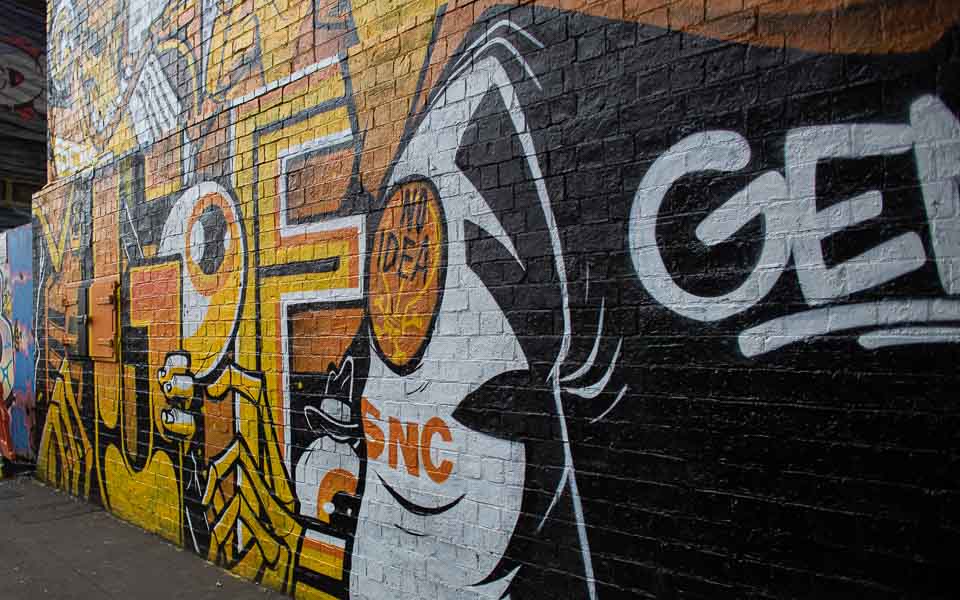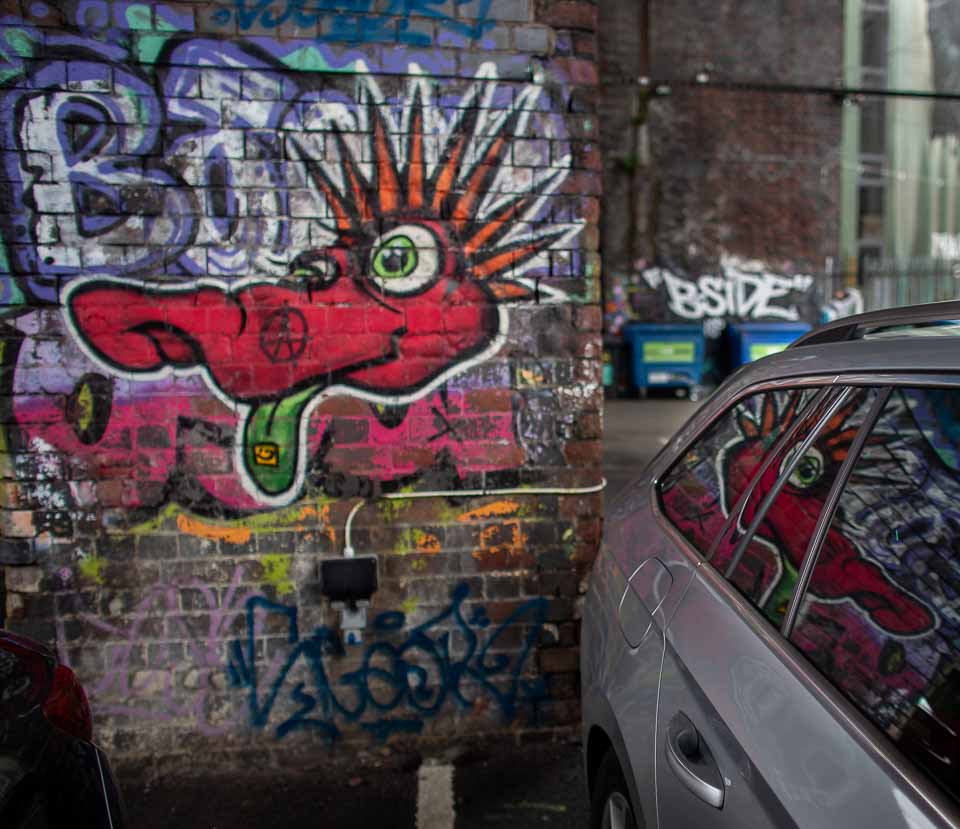 Heading back up towards the next section of the walk we passed by the entrance to a carpark where this caught our eye, and drew us in to the car park for more.
I think you can say that much of the work in the carpark had a politically motivated story behind it, but it was stunning to see. It's also just about 200 yards from the police station.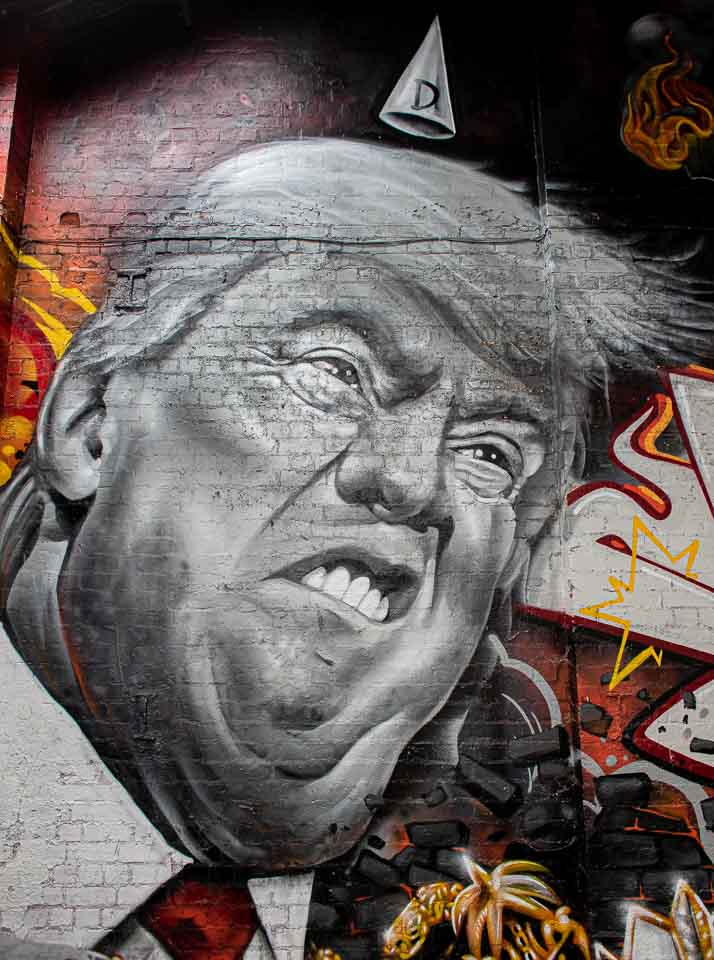 Reflections
Next area we headed towards was the open market and Chinatown. The market presented countless opportunities for street portraits, but I found myself drawn to the reflections in a pool of water on an unused market stall. Reflections were clearly my second theme for the walk, as that's all I shot for the rest of the day.
Where else than New Street station can you see unexpected and distorted views of the cities buildings. Part of the fun here was finding the real buildings being reflected in the mirror cladding on the station.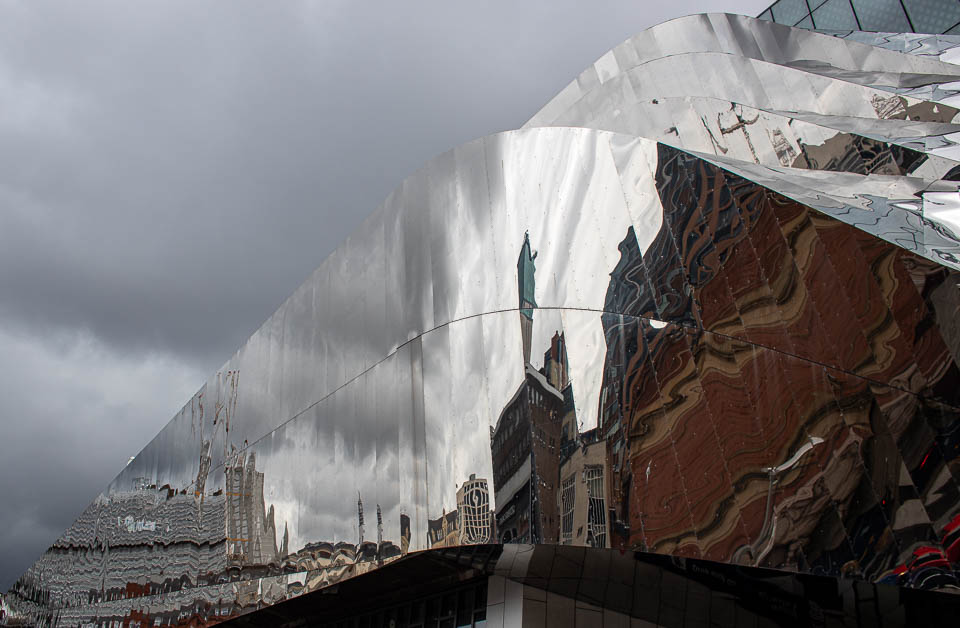 As I headed on up to the finish there was a railway bridge I couldn't see over. But I could hold the camera and turn the vari-angle screen down to compose the shot of the mass of reflections.
So that's it for another year, and I expect to be back leading a walk again in 2020 as I find them so much fun.
---
For this years walk I took a lightweight kit, which included three lenses, but only used one.
EOS R with EF 24mm f/1.4L USM (old Mk 1 version) mounted on the EF EOS-R mount adapter of course.
I took, but didn't use – EF 50mm f/1.8 STM & EF 85mm f/1.8 USM. I carried my camera on a Sun-Sniper strap to make sure I had the camera to hand throughout the walk.