I'm a huge fan of 85mm focal length, and recently I got an opportunity to shoot with the latest Canon RF 85mm F1.2L USM for just one day. 
I was asked to deliver a pair of Speedlite portrait seminars with Canon and Camera Centre UK in Cardiff. Canon had brought along a selection of lenses and cameras for the seminar participants to try out. In amongst them was the RF 85mm F1.2L USM. So with the latest 1.4.0 firmware in my EOS R I picked up the RF 85mm F1.2L and started the seminar.
Physicality
It's a big lens, and not particularly light. Once fitted to the EOS R, balance was really good, masking much of the weight. There's a solidity to the lens / camera that steadies the combination in your hands. Yes ok it feels good.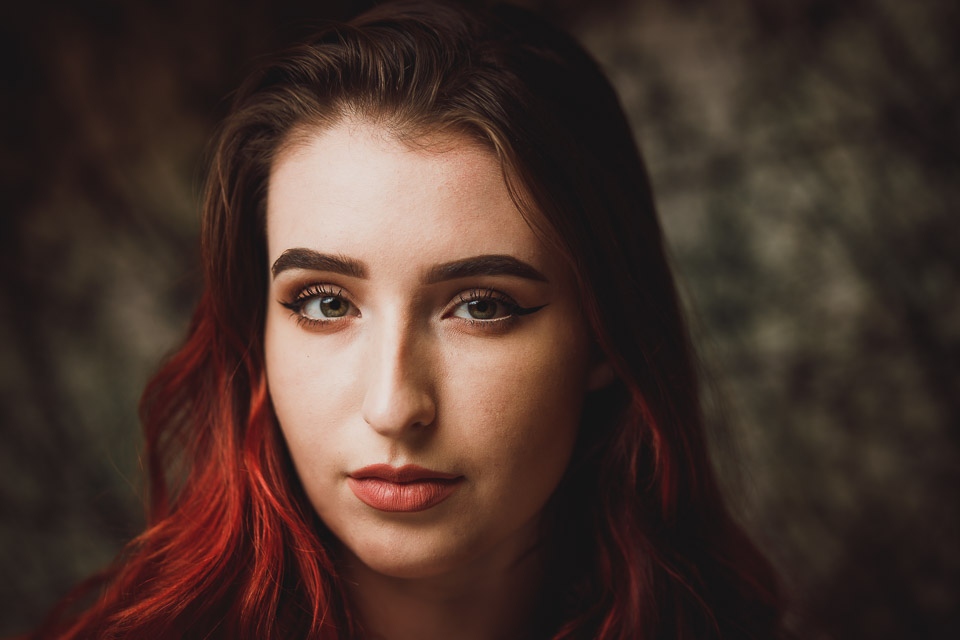 Eye AF + 85mm F1.2
Wide open – or not – you need to be sure that focus is exactly where it needs to be. At f/1.2 the depth of field for a headshot is so limited that if your subject is not exactly square to the camera then you won't have both eyes sharp.
Taking technology in my hands I selected Face Detection and Tracking AF method, then switched on Eye AF. For the rest of the day the camera stayed like that. It's not infallible, but the combination is really workable.
Eye AF with the latest 1.4.0 firmware in the EOS R is much of what I thought it should be when I got the EOS R last October. If you haven't updated your EOS R or EOS RP to the latest firmware, go do it, it's like a free camera upgrade.
At some points in the day I switched between Servo and One Shot AF and the camera kept on delivering nicely sharp shots, mostly on the closest eye to the camera. There were the occasional shots that focused on the more distant eye, and a few more where the model's eyelashes where sharper than the eyeball. However if you've ever used an EF 85mm f/1.2L II USM lens you'll know that nailing the focus is part of the challenge, and brought with regular missed AF that's only more obvious due to the limited depth of field. I'd say that the EOS R with RF 85mm F1.2L USM makes it easier to get sharp shots at wide apertures.
Most of my shots during the seminar were taken at f/1.8 or f/2. This ensures I had sufficient depth of field to cope with the curvature of the eyeball and fractional movement of me or my model, though as above I took some at f/4 too.
Other equipment
For the workshop I used a selection of Speedlite 600EX II-RT, Speedlite 430EX III-RT flashes and the Speedlite Transmitter ST-E3-RT. Backgrounds and light modifiers were by Lastolite.
There's more…
Right after the seminar finished I had a few moments to take some other shots of Claudia using natural light. We shot a few frames on the 1st floor above the seminar space. Remember it's Wales and October, so the ISO needed to be raised even at f/1.2.
Shooting straight in to the light even at f/1.2 there's no problems with the light coming from behind Claudia's head.
My thoughts about the Canon RF 85mm F1.2L USM
After just one day it's hard to make a clear decision, but working with the RF 85mm F1.2 convinced me that 85mm is my focal length of choice. I really enjoyed using this lens and particularly the photos it lets me create. Checking my photos from the last four years tells me that over 17% were shot at the 85mm focal length.
So I'm predisposed to an 85mm, but I don't think this is the 85mm lens for me.
It's a fabulous lens, amazing quality, handles really well, excellent balance on the camera and despite the weight it doesn't feel too heavy.
However, it is a bit of a big old beast, and commands plenty of space in your camera bag. And that for me is the reason I want to have an RF 85mm F1.8 IS USM lens. My "beloved" old EF 85mm lens is small, lightweight and delivers great results, and I take it almost everywhere because of that. This f/1.2 lens would make me have to decide what else to leave out of the bag.
---
Thank you…
My model for the workshop was Claudia Sampford,   Camera Centre UK – Cardiff for looking after us on the day and getting a great group of people in to the seminars. And to Canon UK for bringing all the cameras, lenses and printers and asking me to deliver the seminar.
It had to be done… 400mm portraits
Right at the end of the last seminar, as the participants took their own photos of Claudia I spotted a big white lens on the shelf. Had to give that a go. I picked up the EF 400mm f/4 DO IS II USM and walked back behind the chairs. Since the ST-E3-RT was on my camera I could still trigger the lights :-). This is not my first time making portraits with a 400mm lens.