Earlier this week Canon launched two new PowerShot cameras, the G7X Mark III and G5X Mark II, plus the RF 24-240mm f/4-6.3 IS USM lens.
PowerShot G7X Mark III & PowerShot G5X Mark II
I've always loved my PowerShot G-series cameras and have a PowerShot G7X in my camera collection at the moment. I'm pretty sure it's about to be replaced by a G7X Mark III. For me, going from the Mk I to the Mk III will be enough of a jump in spec and performance. I think that like the "bloggers favourite G7X Mark II" the new one will be a good switch for the ability to use an external mic straight in to the camera and it's direct to youtube live streaming capability.
The G7X Mark III is available in both black and silver, and I quite like the look of the silver one, which is really rare for me.
I'm looking for ward to working with the G7X Mark III in the coming months, these G7X models have always bee note right blend of control and performance in a pocket-size camera. Add in that it will do 120/100 frames/sec at 1080p plus 4K it's going to be great. I also saw that both these cameras have the focus bracketing (stacking) function seen on the EOS RP. Both include a 3-stop ND filter so you can shoot at wider apertures in bright light, which will also help to avoid loss of sharpness due to diffraction too.
The PowerShot G5X Mark II is a great camera, fabulous lens, EVF but I'm going for the G7X Mark III for it's cheaper price, more compact size and mic input. It's a close call though.
RF 10x zoom lens – RF 24-240mm f/4-6.3 IS USM
It's been a while since Canon launched a mega zoom interchangeable lens, the RF 24-240mm f/4-6.3 IS USM will certainly address photographers requirements for a 1-lens for everything solution in the RF mount. Compact and lightweight it's an ideal match for the EOS RP – hence it's going to be available in a kit with the EOS RP too.
I was initially confused about the two rings design, but Canon has combined the RF control ring and focus ring in one. The AF/MF switch we're use to seeing on EF and RF lenses now switches the ring between control ring or manual focus operation. It's probably quite a clever idea, as most people tend to use autofocus all the time with this kind of lens.
I'm also pleased to see a more reasonable lens in the RF line-up. Sure Canon lens designers want to show their skills building mega lenses for the RF mount, but this is the 2nd cheapest and only 50g heavier than the RF 24-105mm f/4L IS USM lens. I cannot wait for some more mid-range compact lightweight RF lenses. If there's an RF 85mm f/1.8 IS USM update for my old EF 85mm f/1.8 USM that focusses quick, doesn't weigh a ton, isn't huge and doesn't cost the equivalent of an arm or a leg i'll be getting it, but for now I'm still using EF and EF-S lenses with the mount adapter on my EOS R.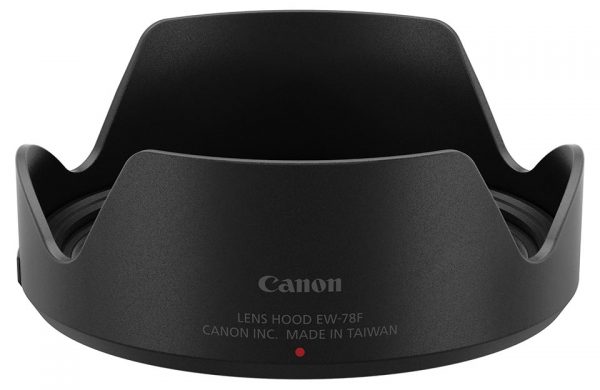 It does feel a little odd that you have to pay £35 extra for the lens hood on a £900 lens, making it the most expensive Canon lens that doesn't come with a lens hood. Though I'm sure most owners won't even bother with the lens hood.
---
CANON PRESS RELEASE
A creative lens for all shots – Canon launches the RF 24-240mm F4-6.3 IS USM a highly versatile, compact, 10x zoom lens for the EOS R System
09 July 2019 – Canon Europe, world leader in lens manufacturing, today expands its RF lens range with the launch of the RF 24-240mm F4-6.3 IS USM – its newest lens for creative enthusiasts starting out on their journey with the EOS R System. Endorsed by renowned Canon Ambassador and action photographer Richard Walch, the compact lens offers huge creative scope with its 24-240mm 10x zoom range that captures exceptional full-frame images. Aimed at those motivated by expressing creativity through photography, particularly for the genre of travel, this lens is highly versatile – capturing everything from wide-angle shots to telephoto close ups in stunning quality.
RF 24-240mm F4-6.3 IS USM with the Canon EOS RP
Following the development announcement of six RF lenses in February and the recently launched RF 85mm F1.2L USM, the RF 24-240mm F4-6.3 IS USM is the second lens to be introduced by Canon in 2019 and has the highest zoom in the range. All six RF lenses will offer incredible quality and versatility for those looking to get the perfect shot with the EOS R System.
Impressive and affordable full-frame zoom
At 750g, the compact and portable RF 24-240mm F4-6.3 IS USM has an incredible weight to focal length coverage ratio. With its 10x zoom, variety of focal lengths and variable f/4-6.3 aperture, this lens is the ideal choice for creative, enthusiast photographers looking to achieve the highest versatility possible from the EOS RP camera and RF lens system. Giving photographers expanded scope for creativity, the RF 24-240mm F4-6.3 IS USM's 24mm wide angle focal length is ideal for group photos, landscape and cityscape photography; while the lens's 240mm telephoto length is ideal for photographing mid-distance sports, events, wildlife and people. With its diamond knurled focus/control ring and large, lockable zoom ring with 100° rotation, the RF 24-240mm F4-6.3 IS USM gives users immediate, precise control to capture the beautiful and interesting things they see with the best shot possible. The large diameter and short back focus of the RF mount allows for the lens to be designed with large rear elements, maximising image quality and therefore allowing photographers to express their height of creativity.
Exceptional image quality with AF and stabilisation
With its five-stop image stabilisation the RF 24-240mm F4-6.3 IS USM is the first full-frame lens with Dynamic IS, providing photographers with incredible stability when hand-held – even at very low shutter speeds – allowing photographers to push their creative boundaries. This key feature allows for the capturing of crystal-clear shots in low light and stable movies – the latter which has a 1/8 stop aperture control – perfect for those spontaneous photo and video opportunities whilst on the move. With Nano USM autofocus, which combines the benefits of STM and ring USM, across 88 per cent horizontal by 100 per cent vertical of the frame with Dual Pixel CMOS AF – the lens is fast and quiet and smooth in movie, allowing photographers to achieve quality footage.
Deluxe look and feel, perfectly matching the EOS R System
A great pairing with Canon's lightest full frame mirrorless camera – the EOS RP – the RF 24-240mm F4-6.3 IS USM gives creative enthusiasts the full benefits of the EOS R System with a native lens. The EOS R System, launched in September 2018, delivers unrivalled optical excellence, the world's fastest autofocus1 and faster communication between camera and lens, thanks to the newly designed RF mount. Fast performance, superb ergonomics and superior, uncompromising, image quality remain at the heart of the EOS R System and this lens is no different.
Canon Ambassador and action / sports photographer Richard Walch recently completed a 12-day voyage along the coast of Norway from Bergen to Kirkenes. In his kit bag was a RF 24-240mm F4-6.3 IS USM.
On using the lens, Walch said: "I wanted to take this lens on a journey to test its true ability. My mission was to find the counter perspective; land to water and water to land. With its great versatility I wanted this lens for those spur-of-the-moment captures along my travels. Norway's beauty is astounding – and when you find yourself in a place of greatness such as this you feel compelled to do the landscape justice with outstanding imagery. This lens is the perfect travel lens and an ideal choice for photographers entering the world of the EOS R System – it is compact and light, yet does not compromise on quality. A great choice if you want an all-in-one lens. For those looking to push their creative boundaries on the go – I'd highly recommend the RF 24-240mm F4-6.3 IS USM."
For standalone product information on the RF 24-240mm F4-6.3 IS USM, please visit:
https://www.canon.co.uk/lenses/rf-24-240mm-f4-6-3-is-usm/
RF 24-240mm F4-6.3 IS USM Key Features:
24-240mm Zoom Range
5 Stop IS with Dynamic IS
Aspheric and Ultra-low Dispersion (UD) Lens Elements and Super Spectra Coating
Circular 7-Bladed f/4-6.3 Aperture
Nano USM Autofocus
Switchable Focus/Control Ring
Built in DLO Profile and Electronic Distortion Correction
Pricing & Availability:
The following products are available from September 2019, with the following RSPs:
RF 24-240mm F4-6.3 IS USM: £899.99/€1059.99
EOS RP & RF 24-240mm F4-6.3 IS USM: £1999.99/€2349.99
Lens Hood EW-78F: £34.99/€40.99
1 Correct at time of launch (5th September 2018) and based on testing of available full-frame mirrorless cameras
---
Canon bolsters its iconic PowerShot G series with two new, high-quality compact cameras for enthusiast photographers and vloggers
09 July 2019 – Canon Europe today bolsters its prestigious PowerShot G series with two new large sensor compact cameras that deliver a harmonious blend of performance and portability. With high speed continuous shooting and 4K movie (no crop), Canon provides content creators, vloggers and photography enthusiasts with a model to take their creativity and technical capabilities to the next level. Building on the quality of Canon's existing range, the PowerShot G5 X Mark II features a new 5x f/1.8-2.8 lens and pop-up EVF, perfect for passionate photographers in need of a lightweight yet powerful travel camera. Meanwhile, the PowerShot G7 X Mark III boasts a 4.2x f/1.8 – 2.8 zoom lens and 3.5mm microphone input, providing content creators and aspiring vloggers with both incredible image quality and pin-sharp sound.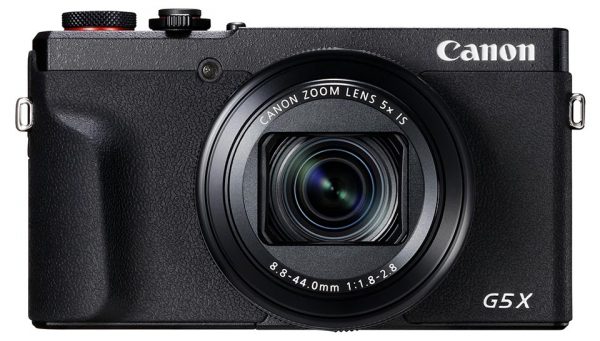 PowerShot G5 X Mark II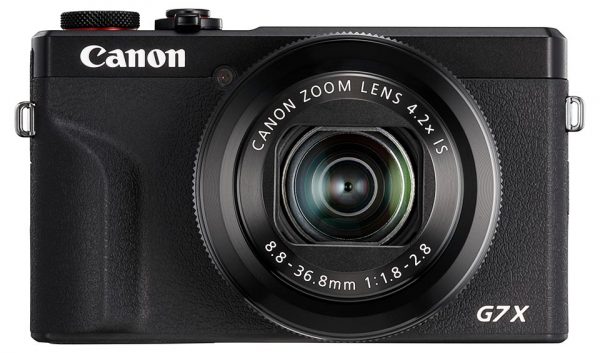 PowerShot G7 X Mark III
High quality imaging in a compact body
Weighing only 340 and 304 grams respectively, both the PowerShot G5 X Mark II and the PowerShot G7 X Mark III employ Canon's powerful DIGIC 8 image processor for unbeatable shooting performance in a pocket-sized camera. With a 20.1 megapixel 1.0-type stacked sensor, both models achieve sensational image quality and vibrant colours for photos and 4K video footage. Making use of the CR3 RAW format, the latest additions to Canon's G series have a wide dynamic range fully supported by Canon Digital Photo Professional (DPP) and other major third-party developing software, giving users greater flexibility during post-production.
The PowerShot G5 X Mark II is equipped with a superb 5x zoom lens – developed using Canon's optical excellence expertise – to create crisp imagery for advanced photographers looking for a secondary camera. Along with its incredibly fast f/1.8-2.8 aperture, this model is perfect for low-light shooting scenarios such as capturing cities after dark – helping photographers to shoot further, faster and brighter than ever before. Comparatively, the PowerShot G7 X Mark III has a 4.2x f/1.8-2.8 zoom lens to help vloggers, who film in varying locations and conditions, shoot high-resolution videos, whatever the lighting. The shallow depth of field, produced by the large aperture in the latest additions to Canon's PowerShot G series, allows photographers to capture subjects with stunningly sharp detail and create a beautiful bokeh effect for professional-looking images.
Complete creative control from Auto to Manual
For both advanced photography enthusiasts and vloggers looking to build their profile, these new compact cameras provide complete creative control in both Auto and Manual modes. From the first touch, the PowerShot G5 X Mark II and the PowerShot G7 X Mark III feel familiar and easy to use, with a menu design inspired by Canon's best-in-class EOS cameras. With DSLR-like levels of control and personalisation with these models, users can enhance their technical abilities while on the go. A control ring provides users with direct access to crucial settings for a more hands-on approach and simpler operation. The PowerShot G5 X Mark II's corner mounted pop-up OLED Electronic View Finder (EVF) with 100 per cent coverage and 2.36m dots allows for easier creative compositions, while the tilting touchscreen provides excellent visibility of shots from a wide variety of angles. For vloggers, the touchscreen feature on the PowerShot G7 X Mark III guarantees the ability to capture videos and photos of themselves in perfect focus – positioned correctly in the frame, for flawless looking content.
The PowerShot G5 X Mark II and the PowerShot G7 X Mark III both provide autofocus with confidence. A useful AF+MF feature has also been incorporated to allow for the focus to be manually adjusted, even after the autofocus has been achieved, to precisely capture subjects. A built-in ND filter promises stunning images with bold colours even when capturing in bright light.
To ensure users never miss a moment whilst travelling or on a city break, both cameras provide fast autofocus and incredible shooting speeds of 20fps in continuous mode. Both models also have a 30fps RAW Burst mode guaranteeing that even the most spontaneous moments can be captured. These unique capabilities make the PowerShot G5 X Mark II and the PowerShot G7 X Mark III essential for travel photographers and vloggers in need of a lightweight yet reliable camera.
Future-proof your content in 4K
Users of both cameras can create smooth, shake-free videos when filming on the go – whether they're walking on uneven terrain or travelling in a vehicle, thanks to the in-camera digital image stabilisation. The HDR movie function minimises the loss of detail and the enhanced dynamic range enables video enthusiasts to unleash their creativity and capture natural-looking footage. These new compact cameras will future-proof both video and still imagery, thanks to super 4K movie quality, for vloggers and photographers looking to upskill their videography capabilities. Frame rates up to 120fps in Full HD mode create a beautifully smooth slow-motion footage ideal for vloggers B-roll, while a vertical shooting mode produces footage purposefully designed for social media. Automatic settings are also available for movie capture in both the PowerShot G5 X Mark II and the PowerShot G7 X Mark III to produce balanced exposure and high image quality – ideal for those developing their skills and defining their style. Manual control of shutter speed, aperture and ISO are still available to offer video enthusiasts the opportunity to develop their technical skills.
Stay connected on the go
The compact nature and improved connectivity of these models makes them the perfect companion for vloggers and photographers on the go. Wi-Fi and Bluetooth®i connectivity allow users to capture spontaneous moments and send them to their computer, phone or social media instantly; while a live streaming function on the PowerShot G7 X Mark III enables vloggers the ability to share live content with their social media followers for real-time engagement. When connected to a compatible smart device, the PowerShot G5 X Mark II and the PowerShot G7 X Mark III can receive GPS coordinate information for images automatically, helping to simplify the process when tagging images on social media. A clean HDMI output for streaming and external recording, using the cameras in conjunction with an external device, simplifies production workflows for users of both cameras.
Pricing & Availability:
The Canon PowerShot G5 X Mark II & PowerShot G7X Mark III are available to pre-order from 9th July 2019 and on sale in August 2019, with the following RSPs:
PowerShot G5 X Mark II: £849.99/€999.99
PowerShot G5 X Mark II with Battery Kit: £899.99/€1,049.99
PowerShot G7 X Mark III: £699.99/€849.99
PowerShot G7 X Mark III with Battery Kit: £749.99/€899.99
Combined Key Features of the PowerShot G5 X Mark II and the PowerShot G7 X Mark III:
New 20.1MP 1.0-Type stacked sensor
DIGIC 8
4K movie (no crop)
120 fps Full HD movie
20fps in continuous mode and 30fps RAW Burst mode
Wi-Fi and Bluetooth® connectivity
Jacket pocket size and weight
PowerShot G5 X Mark II Key Features:
New 5x f/1.8-2.8 zoom lens
Pop-up EVF
PowerShot G7 X Mark III Key Features:
4.2x f/1.8-2.8 zoom lens
Live streaming
Microphone input
i The Bluetooth® word mark and logos are registered trademarks owned by the Bluetooth SIG, Inc. and any use of such marks by Canon Inc. is under license. Other trademarks and trade names are those of their respective owners.