Looking back at some of my favourite photos from 2018. For each of the 12 days (of Christmas) I'm sharing one of my favourite pictures I've taken during 2018.
Happy New Year
#8 – Xanthe Rose
I've been so fortunate to work with Xanthe Rose several times during 2018, including a couple of days for Canon and another shoot in gorgeous summer sunshine, when the light can only be described as magical 😉
The picture up at the top is actually a daylight shot, taken outside and features Xanthe posing under a section of white net material. She's backlit with four Speedlite 600EX-RT flashes, zoomed to 200mm to maximise the output. She's masking most of the flash from the camera, and reducing the flare using the net material. Speedlite's were set to manual mode to give consistent results – read tip #35 to discover more about using manual flash.
Shutter speed, and low ISO combined with enough aperture to all but switch off the sun let me create this apparent night time portrait in daylight. The picture was taken just after 18:30 in the middle of July in the UK, when the sun should set around 21:30.
Camera settings – Xanthe Rose #1
EOS 5D Mark IV
EF 100mm f/2.8L Macro IS USM
1/160s, f/5.6, ISO 100
4x Speedlite 600EX-RT flashes set to manual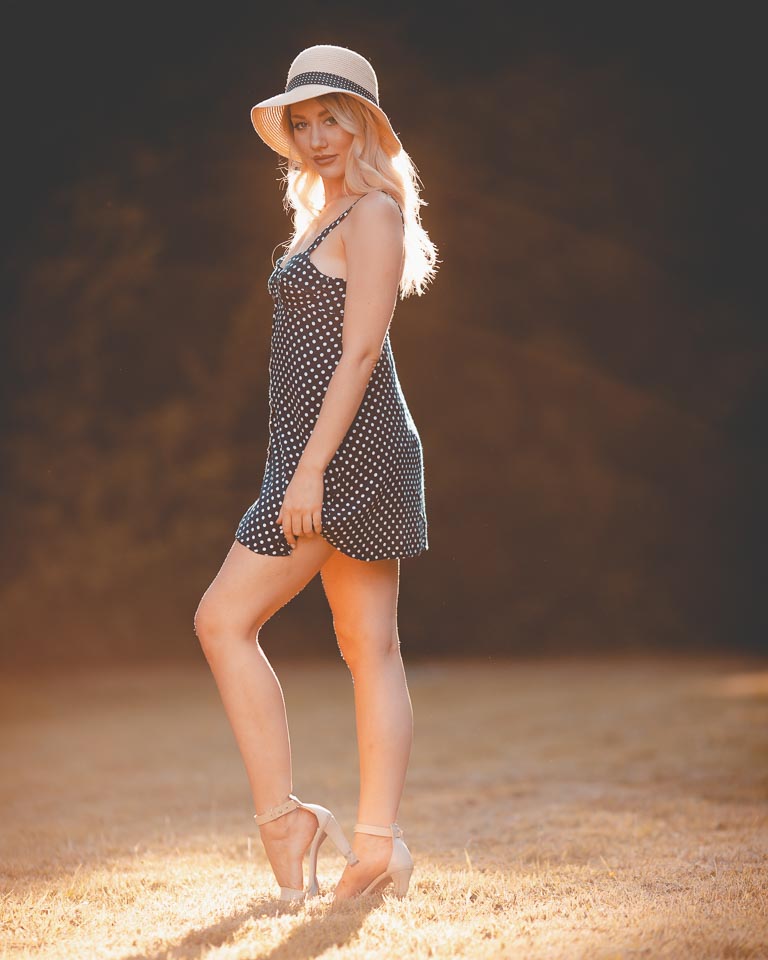 Since I don't think you can ever take enough photos of this fabulous lady, here's another one. Captured after the one above, with the evening sun backlighting her. I used a large Lastolite TriGrip difflector (Amazon), fixed to a light stand to bounce some of that wonderful light back towards her. The space allowed me to get the EF 135mm f/2L USM lens out, and shoot wide open. I've given the image a bit of toning in Lightroom too.
Camera settings – Xanthe Rose #2
EOS 5D Mark IV
EF 135mm f/2L USM
1/400s, f/2, ISO 100
See you tomorrow for another picture…