Lastolite have an amazing new strip softbox. The Ezybox Pro Strip measures 25cm x 150cm and will work with Speedlites, portable flashes and studio flash. It's great to see a strip softbox that can take two Speedlite flashes.
I'm really excited about this new light shaper from Lastolite. There's two things that really appeal, the ease of assembly and that I can use two Speedlites with it. That means more consistent automatic flash exposures with E-TTL as well as a little more power on tap. The way this one is assembled with an exoskeleton-like frame is really amazing, and I hope to have one myself  to try out. The Lastolite Ezybox Pro system of light modifiers includes two octagonal soft boxes, three square soft boxes and now the new strip softbox. Each modifier can be used with a range of light sources including; studio flash, portable location flash and Speedlites.
Manfrotto Ambassador, Eddie Macdonald, used the new light shaper in this video.
---
Ezybox Pro Strip softbox – press release
Lastolite By Manfrotto, the world's leading manufacturer of backgrounds and lighting control systems announces the Ezybox Pro Strip softbox. The Ezybox Pro is the world's first softbox range designed to fit battery flash, portable flash and studio flash from all the major flash manufacturers. Designed to meet the demands of modern day photographers who shoot with different types of flash, the Ezybox Pro enables them to carry one softbox, which is compatible with all their flash units and simply switch between different flash systems using simple connectors, without adjusting the softbox itself.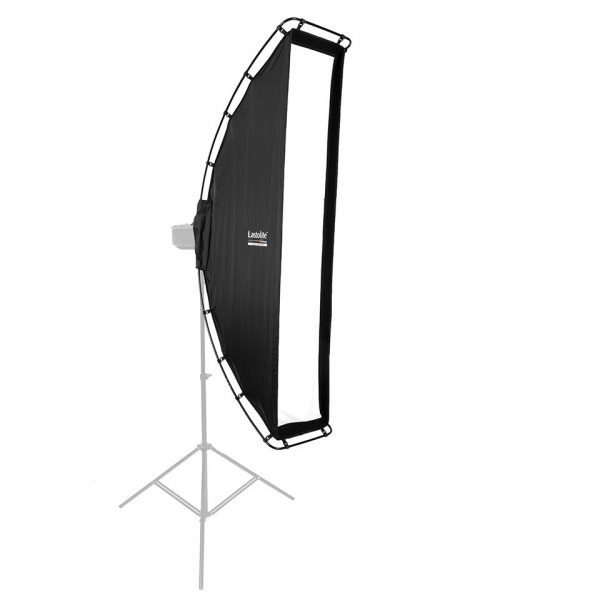 The Ezybox Pro Strip features a unique patent pending design, boasting an ultra-fast assembly time. The Ezybox Pro Strip is built around an innovative collapsible RapidExoframe™, which remains attached at all times to the unique Ezybox Pro softbox frame, the interface for the many different compatible flash units. The softbox fabric also remains attached to the RapidExoframe™ and simply slides along the structure once assembled and clips into position at both ends. The 25 x 150cm softbox (gridded area) offers a 6:1 strip proportion and includes an inner and outer diffuser which when used together offers a 2 stop light loss. The softbox can be used in the vertical and horizontal position. For added control and creativity, the Ezybox Pro Strip also comes with a fabric grid, which simply fits inside the recessed outer edge.
A great new addition to the Ezybox Pro softbox range, the Ezybox Pro Strip offers rapid assembly, multiple flash unit compatibility and all the benefits of strip box style lighting.
The Ezybox Pro Strip LL LS3030 has an RRP of £329.95.
For more information, please visit www.manfrotto.co.uk/lastolite