Manfrotto, world leader in the photography, imaging equipment and accessories industry, presents the new Nitrotech N12 Fluid Video Head.
This ground-breaking piece of equipment combines Manfrotto's highly successful Professional Video Head features with the latest generation, unique-to-market Nitrogen piston mechanism. The new N12 Fluid Video Head guarantees continuous counterbalance and is the perfect solution for today's trend in increasingly smaller camera body sizes, with a variety of accessories attached.
Ground-breaking nitrogen technology guarantess continuous counterbalance system for independent content creators
Secures loads from 4 to 12 Kg, ensuring variable fluidity pan and tilt movements
Distinctive new design reflects pioneering innovation
This pioneering model from Manfrotto is designed to provide independent content creators with optimum counterbalanced weight capacity as they work with the latest cameras and accessories – in and outside the studio.
Nitrotech N12 – continuous counterbalance for 4kg to 12kg loads
Manfrotto's Nitrotech N12 Video Head securely supports loads from 4kg to 12kg and features a unique Nitrogen Piston Mechanism that guarantees precise, continuous counterbalance system and a Variable Fluid Drag System. The Variable Fluid Drag System provides flawless performance on both pan and tilt axes for the smoothest possible footage. Counterbalance is easily adjusted using the ergonomic knob.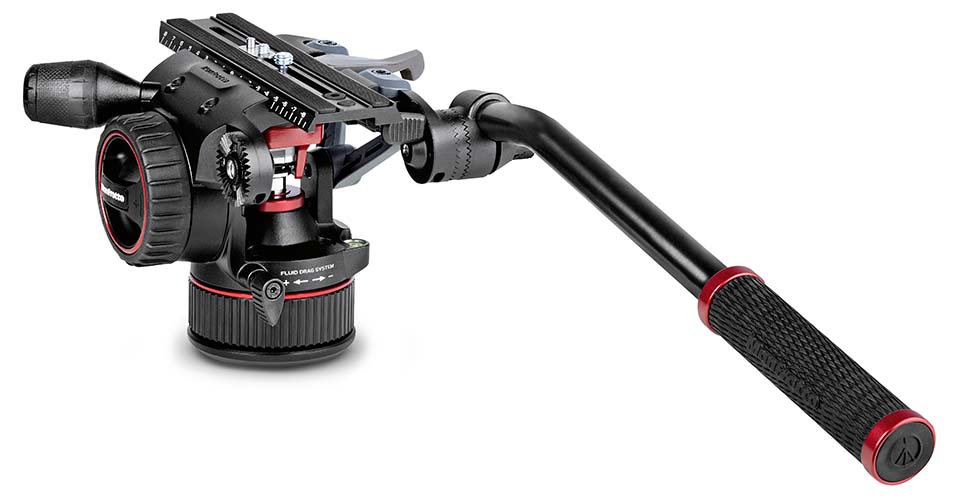 The Nitrotech N12 also features Manfrotto's unique 3/8" anti-rotation Easy Link connector to attach a wide array of accessories. Its longer Side Lock sliding plate enables the camera to click in from above for fast and precise set-up and it is equipped with a metric ruler and back-lit levelling bubble for easy use. The head's 75mm Flat Base fits a range of supports including sliders and jibs, for a wide variety of applications.
The Nitrotech N12 Fluid Video Head is extremely lightweight for a head of its kind. This new model sets a unique standard of engineering innovation and aesthetics combined with the unprecedented power to reliably counterbalance a wide array of camera weights and equipment configurations, giving independent content creators the greatest degree of creative freedom and peace of mind available on the market. The Nitrotech N12 completes Manfrotto's Nitrotech range and video offering.
Pricing
The Nitrotech N12 is available at £599.95. Kits start at £1099.95. For more information, please check the Manfrotto website.
Source: Manfrotto press release