Canon has today launched EOS M100. This small, stylish and connected EOS mirrorless camera promises incredible image quality.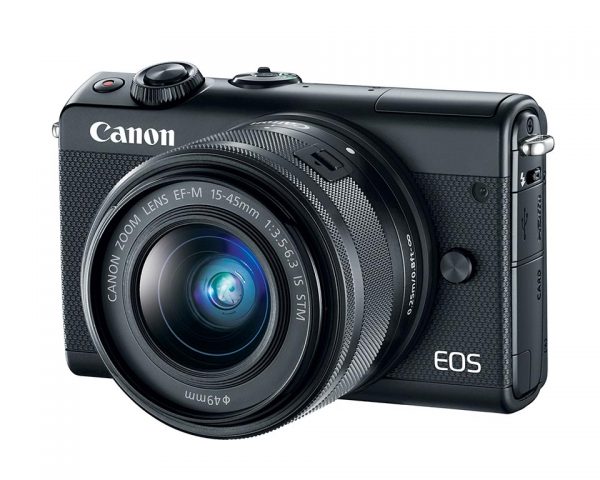 Ideal for having on you all the time, EOS M100's compact and stylish design allows you to spontaneously capture those everyday moments and lifelong stories. The camera's array of creative filters and wireless connectivity allows you to shoot stunning images and upload straight to social media in just a few seconds.
Unleash your creative vision
EOS M100 is the camera to choose to help you release your creative vision and take your photography to the next level. Learning to use your new camera is easy thanks to EOS M100's intuitive touchscreen and creative filters, so switching between your smartphone and the camera is effortless. Mastering the camera's settings is made simple with on-screen explanations so whether you want to blur the background or brighten your subject, EOS M100 will give you the capability to create professional-looking images you'll keep forever.
If you're vlogging or taking a selfie at a must-share location, EOS M100's handy flip-up screen and selfie mode are ideal to get it right first time. The Smooth Skin mode can also be applied in five different levels for an enhanced glow to give your photos that perfect finish whether in selfie mode or taking a snap of your friends.
High quality, small design
For such a compact camera, you'll benefit from the latest technology typically expected of high-end professional cameras. The camera starts up in the blink of an eye so you'll be ready to shoot passing moments as soon as they capture your attention. With EOS M100 you never have to compromise on image quality. Whether shooting in low light, or in the brightest sun, the camera will take crisp, vivid photos that outshine anything you have achieved before. Capturing photos and movies with pin-point precision is never a challenge, with even moving images retaining clarity.
Easy to use
The simple on-screen instructions help you master the range of shooting modes and settings to skilfully bring to life the world around you in your photography. The camera's intuitive touchscreen with controls just like your smartphone makes it even easier to use. You can swipe through your images and even zoom in and out in playback mode with a simple pinching action.
Match your camera to your style
Available in black, white and grey with a choice of nine jacket colours you can design your camera to your personal taste. Whether you prefer a sleek black look or vibrant turquoise, you can mix and match the jackets to give your camera an edge. Attach a strap so you can pop it on your shoulder or round your neck for convenient and safer use when shooting out and about. The whole design is yours for the making with a range of jackets and straps to choose from.
Stay connected
Uploading your images to Instagram and Facebook is a seamless experience with Wi-Fi and Bluetooth connectivity. When connected, you can transfer your images directly to your phone using the Canon Camera Connect app on iOS and Android devices[1] without even needing to touch your camera. The handy connection means you can easily back up all your photos and movies on the Cloud, if required, once you are set-up with Wi-Fi; so you never need to worry about losing your best memories.
Compatibility for all your needs
With EOS M100 you can choose your lens depending on your shooting aspirations. Whether capturing landscapes or portrait images, you can change your camera's lens to suit your needs. Just like the camera, the dedicated lenses in the EOS M range are small and lightweight meaning you won't be held back on your next adventure. For even more choice, you can access the entire range of EF and EF-S lenses using a mount adaptor[2] allowing you to easily swap lenses when stepping up your photography.
The fashionable, quality camera allows you to capture the world in stunning new ways. Taking your everyday photography to new heights, EOS M100's creative filters and high quality image capture mean every shot is worthy of a place on your Instagram feed. EOS M100 is the camera to capture lifelong memories in beautiful definition that can be treasured and shared with family and friends. Its compact, lightweight body makes it the ideal component to capture stories at every occasion.
Pricing and availability
The EOS M100 is available from October 2017 in the following kits:
EOS M100 Body Only – RSP £449.99/€569.99
EOS M100 + EF-M 15-45mm f/3.5-6.3 IS STM – RSP £569.99/€699.99
EOS M100 + EF-M 15-45mm f/3.5-6.3 IS STM and EF-M 22mm f/2 STM – RSP £699.99/€899.99
EOS M100 + EF-M 15-45mm f/3.5-6.3 IS STM and EF-M 55-200mm f/4.5-6.3 IS STM – RSP £769.99/€969.99
---
[1] Must be operating system iOS 8.4 (or later) or Android 5.0 (or later)
[2] Lenses and mount adaptor must be purchased separately