Newbury Camera Club Speedlite presentation & live demo
Yesterday evening I travelled along the snow lined M4 to Newbury Camera Club for the first camera club talk of 2017.
I have delivered several talks for Newbury camera club and it's always great one invited back for another one. They had as led me to talk about lighting with small flashes, Speedlites, and we agreed to do a half evening presentation and half evening live shoot. Even before arriving I knew that the club would be bringing along a great selection of top models for the night too – the members.
So after a first half of presentation and slideshow of some of my work I headed in for the live shoot. To make it as simple as possible for everyone to see the results as I worked I had connected my EOS 5D Mark IV using Wifi to the laptop running EOS Utility. The preview screen in EOS Utility was set to give a full screen preview of each image taken. I set the camera to shoot RAW & small JPEG but only sending the small JPG (7.5MP 3,360 x 2,240 pixels) ensured images were on screen instantly.
My first volunteer was even prepared to be part of the demonstration as to why it really helps to get the flash off the camera. O-camera flash aimed straight at your subject is not flattering for anyone, so then it was time to move off-camera. Even a bare flash from one side looks better than on-camera flash.
Adding a sofbox, even a little one like the Lastolite Ezybox SpeedLite 2 makes a subtle improvement and then I moved on to the laster Lastolite Ezybox II medium (60cm x 60cm). Even with just a single Speedlite 600EX-RT and the flash set manually to 1/16th power the results were good. Camera was set to 1/200s f/5.6 ISO 400 for every single shot to ensure that what was shown was the result of the flash and not the ambient light in the room.
As always it's good to show how far away from the subject you can feather the soft boxes to reduce the light on the background, but still light your subjects.
My next volunteer model had great glasses that brought up a question from the group, how to get rid of the reflection in glasses. A simple move of the softbox soon eliminated the reflection
For my next model I added some colour, a primary red gel filter on a second Speedlite 430eX III-RT flash. I did try it to add colour to the background, with the flash sat on a table not on a light stand, but it was a little low. So adding a light stand I placed the flash as an accent on the opposite side to my main softbox.
I also moved the main light to the camera very close in to the camera left of my subject, almost at 90 degrees to my camera. This gives a soft light that falls off very rapidly.
For my next volunteer, I opted to use the larger Lastolite Ezybox II Octa medium, still with a single Speedlite 600EX-RT inside. However it was positioned above my model and angled down. Sure enough this creates shadows under the chin, but a volunteer reflector holder – these clubs are so good to me – soon improved the balance from top to bottom.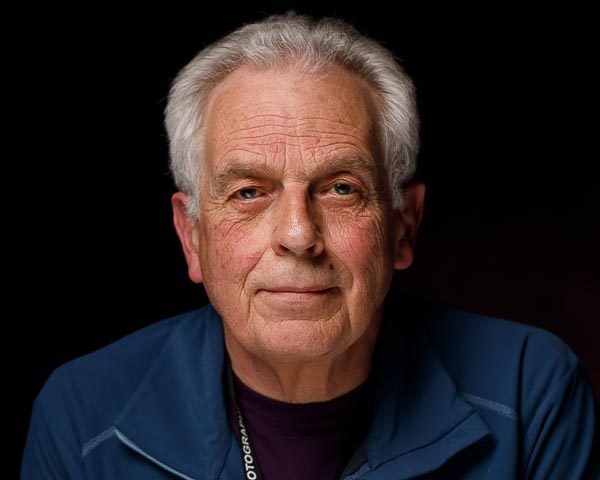 For my last victim volunteer, I used two soft boxes. The Ezybox Octa, as above, but for a fill light I used the Speedlite 430EX III-RT with the small Ezybox Speedlite 2 to provide the accent light. I showed various options for how to place the small softbox, even aiming it behind the model to help light the background behind him at one point as well as filling on the left side of his face (camera right).
So a huge thanks to Newbury Camera Club for asking me to come and deliver a talk for you, I hope that you enjoyed it as much as I did and hope to see you again sometime soon.
Apart from the monochrome converted image, all these pictures have just been cropped to the 4×5 aspect ratio and not had any post production.
---
I used the following equipment for the live shoot
EOS 5D Mark IV
EF 24-70mm f/4L IS USM
EF 100mm f/2.8L Macro IS USM
Speedlite 600EX-RT
Speedlite 430EX III-RT
Speedlite Transmitter ST-E3-RT
Lastolite Ezybox II medium
Lastolite Ezybox II Octa medium
Lastolite Ezybox Speedlite 2
Lee filters primary red gel
More information about the metalwork, stands and other bits of supporting kit I use can be found in my off-camera flash gear guide. If your camera club would be interested to book me for a talk or presentation please get in touch. There are more details about the kinds of camera club talks I can do here.