I received one of Canon's WiFi Adapter W-E1 cards for my EOS 7D Mark II, lets see what it can do…
Launched back in August the WiFi Adapter W-E1 adds much needed WiFi to three cameras; EOS 7D Mark II, EOS 5DS and EOS 5DS R. The W-E1 works with cameras having two card slots – 1 of which has to be SD – and needs functions only found in DIGIC 6 processors. This means that it won't work with the EOS 5D Mark III.
WiFi adapter W-E1 functions
The W-E1 adds just two wireless capabilities, the two that most people need; connect to smartphone and remote control with EOS Utility.
Connect to smartphone
Connect to smartphone works with Canon's Camera Connect App to transfer images from the camera to your Android / iOS device, and also offer remote shooting and Live View.
If you shoot landscapes or macro where you can't get to see the scene through the viewfinder or on the LCD screen, the W-E1 is the vari-angle LCD option for you. Tap on the screen of your phone to move the focus point, even release the shutter for minimal camera shake. If you just need to send a picture to your phone to share online that's easy too.
As of November 2016 the camera connect app can't transfer RAW images to your phone without converting them to JPEG. Maybe this will come with a future update to the app.
Remote control (EOS Utility)
Remote control works with Canon's EOS Utility software in much the same way as the same camera connected with a USB cable. So that means you can change all kinds of camera settings, use Live View, transfer images to your computer as you shoot.
For studio and location photographers EOS Utility mode will let you shoot tethered without a cable to trip over.
Getting started with WiFi Adapter W-E1
You will need to update camera firmware to version 1.1.0 or higher to use the W-E1. If you don't upgrade then the camera will think the card is a write protected SD card that it can't work with. Since the W-E1 doesn't have memory to store your photos then you need to have a CF card in the other slot for the camera to work. If you have the camera set to record files to both SD and CF card then only the CF card will be used.
One caution in the W-E1 manual is that with the updated v1.1.0 firmware installed the cameras will take 0.05s longer to start up from switch on.
The W-E1 manual mentions that if you connect a cable to the camera then the WiFi is switched off. This is true for USB or HDMI cables. There's no warning about this apart from in the manual. Furthermore if you try start movie mode, the camera says that it cannot record movies while the WiFi is active.
Networking to suit your needs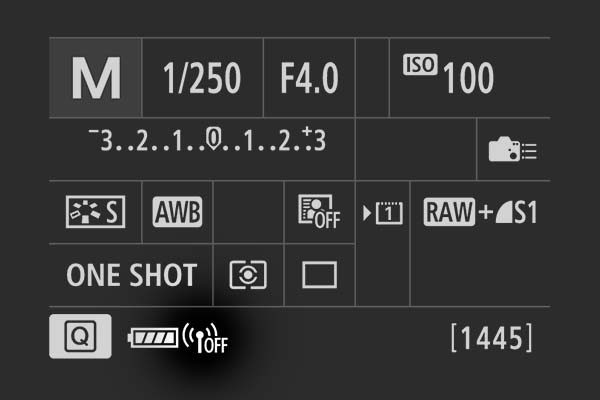 Like the other recent EOS cameras there are two approaches to networking with the W-E1. You can either add the camera to your existing wireless network, or have the camera create a network that you connect either your computer or smartphone to.
If you have an existing WiFi network with a router or access point then my advice is to use it. You will need to reconnect the WiFi each time the camera is switched on, it won't automatically reconnect. You'll get used to seeing the icon on the camera LCD showing the WiFi is off!
However if there is no network to use then have the camera create one. If you use the camera created network and the camera is switched off it's highly likely that the computer or smartphone will go looking for another network and if it finds one then it stays with it meaning the camera connection doesn't restart when the camera is powered on.
Practical considerations
It's early days to make a clear conclusion, the WiFi works in test, but I'll be continuing to work and use it for the next few weeks alongside the EOS 5D Mark IV to see if there are practical limitations compared to a camera with built-in WiFi.