Manual exposure mode, the one I call "I Made it Myself Mode" provides a photographer with all the tools to be fully in control of their exposure; shutter speed, aperture and ISO. Sure the camera metering works and gives you guidance as to how you are comparing to the camera's view of the subject, but you are the creative, this is your call – unless you use Auto ISO.
It's thanks to a tweet from Jon Maddison that I'm writing this post. Jon asked if it was possible to use manual exposure mode to set a shutter speed and aperture, then use Auto ISO with a limited range handle the different brightness levels in different scenes. The answer is both YES and NO. Yes if you have a recent model advanced EOS camera, no otherwise.
Oddly I used my EOS 7D Mark II just the other week with manual, auto ISO and exposure compensation to photograph a fast moving dog, there's a blog post about AF from that day coming shortly. So like a dog with a bone here's my in-depth info on the topic of auto ISO and manual mode.
NO – manual mode & auto ISO
Jon was using an EOS 40D – it's in the no camp – and when you set it to manual exposure and use auto ISO the camera basically locks the ISO to 400.
YES – manual mode & auto ISO
More recent cameras like the EOS 5D Mark III improve the situation quite a lot, you can set manual with auto ISO.
The EOS 5D Mark III camera and others  can limit the range of ISO settings that the camera can use for auto ISO. This would enable the EOS 5D Mark III to meet Jon's needs.
But then Jon added another tweet with the notion of being able to use exposure compensation with Auto ISO in manual mode. Since using Auto ISO has in effect turned manual exposure in to an automatic exposure mode, therefore it makes sense to be able to bias the exposure with exposure compensation. Unfortunately the EOS 5D Mark III does not allow this. I think that a firmware update could certainly make it possible, but none has come from Canon.
YES – manual mode, auto ISO & exposure compensation
EOS-1D X introduced the notion of being able to use exposure compensation with manual mode and auto ISO. It's something that seems strange to a lot of "older" photographers – manual meant manual – but if you think of manual with auto ISO as shutter and aperture priority then it makes sense to be able to access exposure compensation.
At the moment the following cameras can work in manual mode with auto ISO and still have exposure compensation…
EOS-1D X
EOS-1DX Mark II
EOS 5DS / EOS 5DS R
EOS 7D Mark II
EOS 80D
You can either access the exposure compensation using the Q button to change the setting on the rear LCD, but there is a faster way.
Use the SET button to access exposure compensation
Manual mode, auto ISO no exposure compensation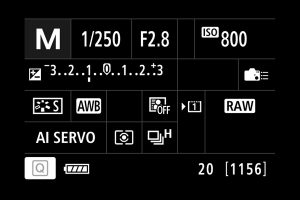 Manual mode, auto ISO, -1 EV exposure compensation
Custom controls configures the set button
Custom controls is used to assign the SET button to allow exposure compensation to be changed.
Now a press of the SET button, and then turning the main dial (front dial) will change the exposure compensation.
These screens are from the EOS 7D Mark II, but it's similar in the other cameras that provide this function.
As with the EOS 5D Mark III above you can set limits for the AUTO ISO setting in the camera menu.
Thanks Jon
So thank you Jon for the post inspiration. If you have a question, please don't hesitate to reach out to me, use the #askBrian hashtag on twitter or instagram will help me find it too. Go and follow Jon on twitter too.