I woke up the other morning thinking about how I was going to fire the shutter on my camera for an upcoming video shoot. I remembered a solution and I was soon off on a tangent wondering how many different ways you can release the shutter for still pictures. Here's eight ways I thought of to release the shutter of your EOS camera.
Shutter button
Self-timer
Cable remote release
Infrared remote release
Using a radio Speedlite slave
EOS Utility / Camera Connect App
Linked shot – network or Speedlite
Touch shutter
Just because there are eight methods it's not going to revolutionise your photography, but it might make sure you can get a picture in unexpected circumstances someday.
1. Shutter button
The obvious one, it's the primary button we press on our cameras. More than any other button for sure.
By default EOS cameras activate focus when the shutter is half-pressed. This can of course be overridden for almost all EOS cameras with custom functions or custom controls to implement back button focus.
---
2. Self-timer
This is free with your EOS camera and is often used to allow you to get in your pictures. Most cameras offer either a 2-second or 10-second delay. When you press the shutter, the camera will focus and then the countdown starts. You see a flashing light on many cameras, and if you have the beeps active then you'll hear them too. The flashes and beeps get more urgent in the last few seconds. Pressing the drive button during a count down will stop the picture from being taken.
---
3. Cable remote release
Cable remote releases are used to release the shutter without disturbing or moving the camera, avoiding camera shake with long exposures.
Cable releases are accessories that connect to a remote release connection on your camera. You can think of them as a remote shutter button as they have the half-press and full-press positions on the release buttons. This means they wake up the camera from sleep, can drive AF and take the picture. You can combine cable releases with the self-timer too. There are several different releases made by Canon, so stop by the remote release compatibility chart to find the one for your camera.
---
4. Infrared remote release
Similar to the cabled remotes, the infrared remotes trigger the shutter from a short distance away from the camera. Since there is no physical connection at all they offer the potential to avoid moving the camera at all when used. The downside is they usually only have a single stage action, there's no half-press, and they need to be aimed at the sensor on the front of the camera.
Speedlite 270EX II and 320EX include an infrared remote release within the flash. It works just like a separate infrared remote release.
---
5. Using a radio Speedlite slave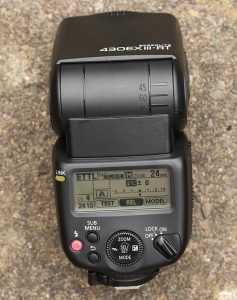 From a radio Speedlite configured as a slave it is possible to release the camera's shutter. I initially thought this was a gimmick but I've actually found it to be very useful in a number of situations. Usually when I've run out of light stands on an outdoor shoot 🙂
---
6. EOS Utility / Camera Connect App
All cameras can be used with the EOS Utility software that allows control of the camera settings including shutter release. When working in the remote control mode, a press of the space bar, or a click of the mouse is all it takes. EOS Utility normally connects with USB, but some cameras can also use a WiFi connection.
For cameras with WiFi the Camera Connect App also allows the shutter to be released by tapping on your smartphone or tablet screen.
---
7. Linked shot – network or Speedlite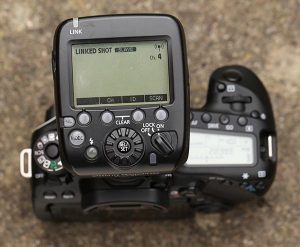 If you use a number of cameras, it is possible to release the shutter of multiple cameras by pressing the shutter on a designated master camera – Canon calls this Linked shot. Linked shot was first seen on some WiFi transmitters. The master camera sends a signal to the others on the same network and they will release the shutter shortly after the master.
With the radio wireless flash system Linked Shot is also available. Set one device as a master and the others as slaves. Each slave camera will be triggered just after – about 100ms in my quick check – the master camera. It's just a shame that it is not possible to use this and still control off-camera flashes.
Up to fifteen slave cameras can be triggered using linked shot either networked or with the radio wireless flash system.
---
8. Touch shutter
Some cameras with touch screen LCDs have an additional option, you can configure them so that in Live View mode a touch on the LCD screen will cause the camera to focus on that part of the frame, and when the subject is in focus the shutter will release.
---
Just waiting for the first comment when someone shows me another way 🙂