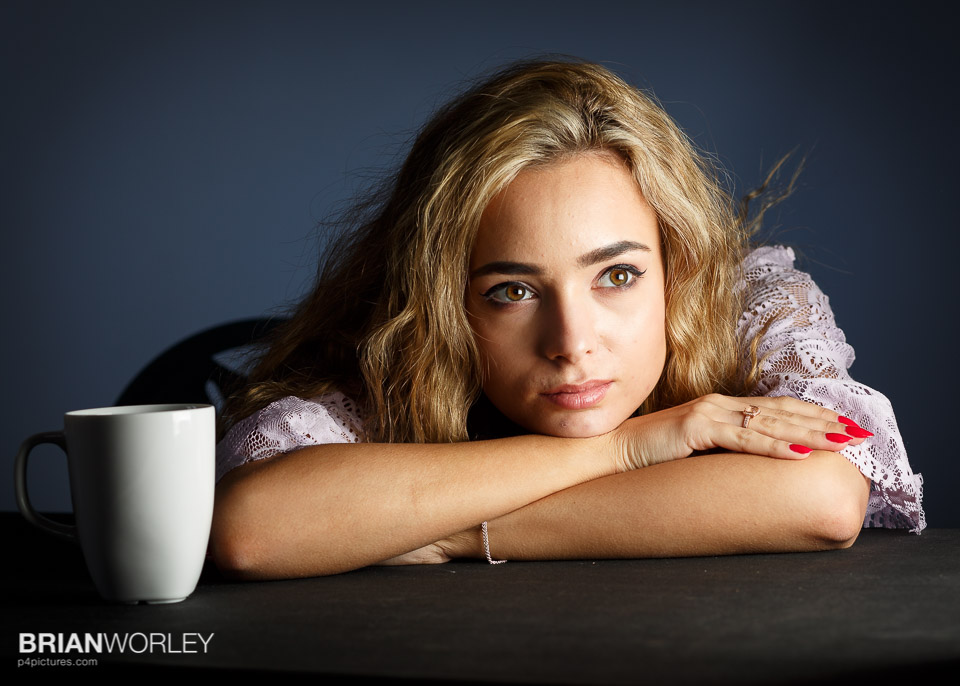 How awesome is your brain? Yesterday mine reminded me to use a light source really close to a subject seated at a table. Brian's brain files it under shopping bag lighting.
I'll share the video that gave me the term shopping bag lighting later, but the picture up above is the result. I used a single softbox resting on the table that the model is leaning on. I just put it close to her. Even though the softbox is only 38cm x 38cm it's relatively large so delivers lovely soft light.
Camera and settings
Manual exposure on the EOS 5D Mark III camera fitted with my EF 85mm f/1.8 USM lens
Settings: 1/200s ISO 100 f/5.6
Speedlite 600EX-RT set to E-TTL
Lastolite 38x38cm Ezybox Hotshoe Softbox
The model is positioned several feet from the background so little flash gets back there giving a neat neutral background that works for me.
I took a few versions of the scene, and later added a Speedlite 430EX III-RT on the floor behind the model with two gels before taking the setup shot below. Each gel covering just half of the 430EX III-RT Speedlite, one red, one blue.
---
"Shopping bag" lighting explained
It took but a search on google to find the video that had originally installed itself in my mind for recall yesterday, but here it is from GoodLightMag! [possibly NSFW link]