Super clamps are one of the most useful bits of grip kit I own. Combining them with a few studs and you have a secure way to mount lights, cameras and as in this case a TriGrip reflector wherever you need.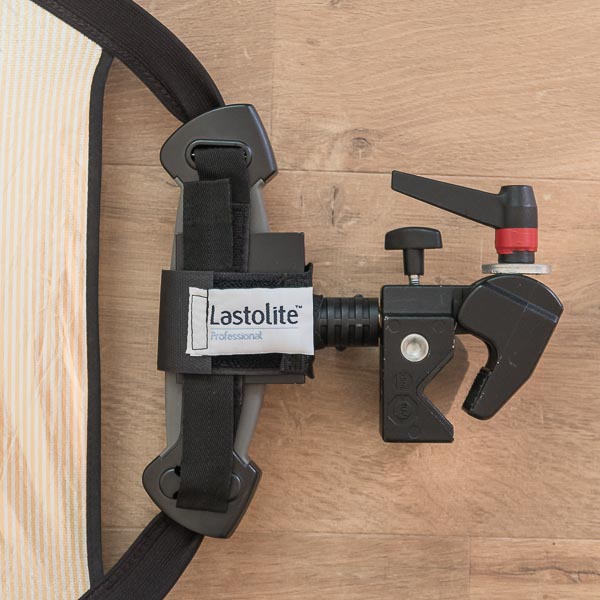 Essential component parts …
Once you have the parts assembled just clamp the reflector to the light stand under your softbox. The TriGrip I use drops a little as shown in the side-on shot above, but that works for me. For scale the softbox is a 54cm x 54cm Lastolite EzyBox.
When I'm taking a quick headshot, my go to setup is a medium large softbox straight on to the subject with a bit of fill from a reflector under the subjects chin. Using just a single light stand to hold both the light and the reflector makes it easier and faster to setup.
With the reflector in place it is also easy to direct each subject to the right position, with them just touching the end of the reflector. If you need to adjust the height of the light, then if you position the super clamp on the right part of the light stand a single adjustment moves the light and the reflector, great if you have to do a lot of headshots quickly.
The only downside to the setup is that you have a light stand right in the middle of the frame. For me, using an 85mm lens on a full-frame camera I'm located right next to the nightstand so not a big problem.
Real results
You will see a characteristic second catchlight in the lower section of the iris due to the reflector, a change of surface to white will lessen the appearance but it will still be there. However it's a simple touch to remove if it bothers you or the subject.