Over the weekend I was making pictures with the EOS 5DS R in a compact space on the Park Cameras stand at The Societies annual convention and trade fair, here's some thoughts about working with 50MP
A few weeks back I was asked if I could help to show the detailed resolving power of the EOS 5DS / 5DS R cameras in a live photo shoot during the trade show part of the annual Society of Wedding and Portrait Photographers (SWPP) convention. Using a section of space just 1.6 meters wide and 2 meters deep and needing to put me, the subject and the lighting in the space meant that head shots and maybe half length pictures were possible if the lens was 50 to 100mm in focal length.
50MP resolution
Oh boy these are big files that reward appropriate selection of camera settings, technique and lens.
Lens choice
I took just three lenses the EF 50mm f/1.2L USM
, EF 100mm f2.8L Macro IS USM
and my EF 85mm f/1.8 USM
. In the space I needed to be able to focus close, and with the short distance to my subject, I would need to stop down to get good sharpness that would then allow me to show what 50MP resolution does. Also these lenses are comparatively lightweight making it easier to handle the camera and show visitors try the camera for themselves.
Camera settings
RAW + JPEG – I already knew I would be shooting tethered to a computer to show the pictures as they were taken. Using a Tether Tools USB 3.0 Active 5 meter Extension Cable
I set EOS utility to only transfer the JPEG image, leaving the 60MB+ RAW on the memory card to transfer later with a card reader.
I also opted for the single spot AF point to make sure I was placing the point of focus where I intended. I moved the AF point around the 65-points by moving the multi-controller to put the AF point in the right part of the frame, rather than stick to the centre point then use focus, lock and recompose. AF was set to one-shot. I started off using my preferred back button focus, but with the aim to get the camera in the hands of the visitors I switched back to focus on the shutter button for much of the show.
Lighting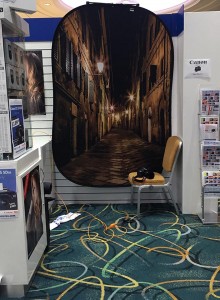 Working indoors in the available space I knew we'd be using Speedlites. For many shots I used a single Speedlite in either a 60cm x 60cm soft box or a 14ocm x 40cm strip box. The Speedlite 600EX-RT flashes were not pushed hard, and often operated at 1/8 to 1/4 power giving me f/5.6 to f/8 at ISO 100 to 400. Speedlites were controlled with a Speedlite Transmitter ST-E3-RT using manual power control. Using Speedlites at lower power gives a shorter duration flash to freeze any movement. Camera was set to manual with 1/200s shutter speed to ensure the ambient light was eliminated.
I recall that of the near 900 frames I shot less than 10 were black, due to me switching off the Speedlite or the transmitter. The Canon radio flash system just worked flawlessly like it always does.
As you can see from the phone picture of the space, we used a 2.1 meter x 1.5 meter collapsible Lastolite background
to give a range of options for backgrounds and not take up too much space.
---
EOS 5DS R – 50MP pictures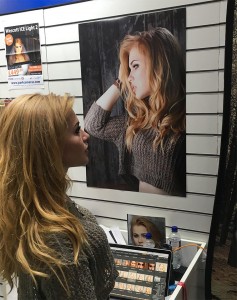 With big files and a 24-inch wide Canon large format printer on hand big prints was always a possibility. No person is keen to see every minute, unretouched detail of their face on paper for close-up scrutiny; I have to thank my super model Georgia for doing awesome make-up and having wonderful skin tone and texture.
On the first afternoon I was really happy with the results, even the unretouched prints looked awesome we kept them to refer to and show the visitors during the remaining days.
The one pictured is 24″ x 36″ / 60cm x 90cm making it larger than the real Georgia.
RAW images from the camera were processed in Canon Digital Photo Professional, using standard settings and then output to 16-bit TIFF files for printing – 300MB TIFF files.
After three days and nearly 900 pictures of Georgia accounting to 55GB of RAW images I'll be picking a few more to share in a couple more days.
Last, but not least
A huge thanks to the folks at Canon UK and Park Cameras for asking me to do this at the show, and to Georgia and Lastolite for general awesomeness and help.
If you hear on the radio that there's freak warm breezes in Oxfordshire it'll be the fans on my computer as I work through the files 🙂