I picked up a Speedlite 430EX III-RT as soon as they were available from dealers in the UK. Now after one month of use it is time to share my thoughts on this latest Canon flash
Right from the launch of the Speedlite 600EX-RT and ST-E3-RT back in 2012, I've said that there needed to be a lower cost Canon 430EX-type flash that could work with the radio wireless system.

Competitors such as Yongnuo have created low-cost clones of the 600EX-RT (Yongnuo YN600EX-RT
) and ST-E3-RT (Yongnuo YN-E3-RT
) plus introduced an inexpensive radio receiver the Yongnuo YNE3-RX
that transforms Speedlite 580EX II's to radio operation.
Speedlite 430EX III-RT – it's a good one
So the 430EX III-RT has to have something missing apart from the high price tag. In fact there's little missing and if you are looking to buy a Canon flash – with all the support, compatibility and cost – then it's a good one.
Starting at the power output, the guide number is 43m at ISO 100. In practice this means you'll need to open the lens 1-stop more or increase the ISO by 1-stop compared to using the 600EX-RT at full-power.
The flash is also smaller and lighter meaning it fits in the camera bag more readily, and can work with lighter stands for off-camera use. 
Radio slave and master, plus optical slave ability
When it comes to wireless triggering both optical and radio wireless slave mode, plus radio wireless master is present. In my head I half expected the flash to be only a slave for both optical and radio operation. It also means that a 430EX III-RT is a cheaper option as a master to control other flashes than the ST-E3-RT and can do

almost

 everything the ST-E3-RT can do as a master.

I still wish that second curtain sync was possible over the radio link – Canon hasn't added that as yet!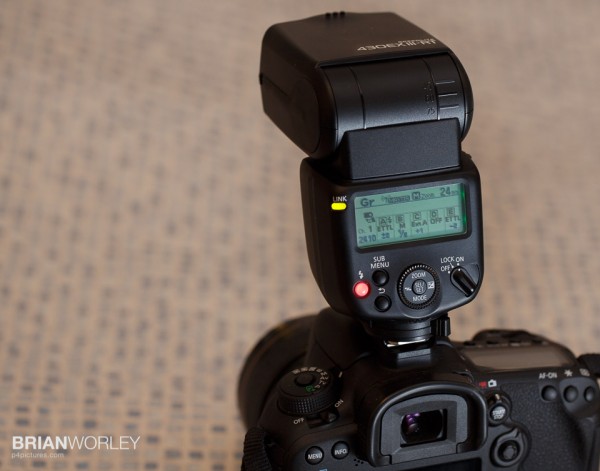 One missing option is multi-flash or stroboscopic mode either as a slave or master. Furthermore external metered flash is not possible when the flash is configured as a slave, yet it can control other Speedlite 600EX-RT flashes in external auto mode.

As a slave, the 430EX III-RT can be configured to fire the modelling flash, test flash and even release the shutter of the camera – just the same as a Speedlite 600EX-RT.
A different control layout
One of the most obvious differences is the control layout on the flash. Using the 430EX III-RT as a radio master is a different experience than the 600EX-RT and ST-E3-RT. It's not particularly bad, just different. Some settings are simpler to reach, others not so. I think that the combination with a recent camera means photographers will choose to make many of the settings through the camera menus.
In some cases it feels like the 430EX III-RT controls are faster to operate, I think this is partly down the to fact that you can see most of the options on the LCD whereas the 600EX-RT and ST-E3-RT use a series of buttons to access and display different settings.
Tough enough?
The 430EX III-RT is not weather sealed, nor does it have the possibility to use it with an external battery pack. I'm not sure too many purchasers will mind. It recycles fast enough if you keep it filled with good quality AA rechargeable batteries – I like Eneloop batteries in my flashes.
Accessories
Included with the flash are two accessories, the orange coloured filter and the diffusion dome. I tend to use my own gels with Honl speed straps to mount filters as these will fit any of my flashes and offer a wider choice of colours. The dome diffuser will give more of a bare-bulb effect to the light pattern, it's ok in soft boxes, but you do lose some power.
Hot stuff…
I used the 430EX III-RT as one of four flashes on my Lastolite quad bracket for a flash workshop. With several photographers firing the flashes the 430EX III-RT got a fair workout and was the first one to go in to "overheat" mode – the LCD display turns red. A few minutes rest and the flash was ready to go again. If you need the maximum power and need to shoot a lot of flash pictures in a short time the 600EX-RT might be better suited.
---
If you just need a flash to sit on the camera hotshoe then the 430EX III-RT is a good choice, reasonable power, small size and lightweight. If you have an EOS 600D, EOS 650D, EOS 700D, EOS 750D, EOS 760D, EOS 60D, EOS 70D, EOS 7D or EOS 7D Mark II then it can also be a first off-camera flash controlled using optical wireless from your camera's built-in flash. It also balances nicely on the smaller lighter cameras. How long will it be until we see an EOS camera with built-in radio wireless capability?

If you have a 600EX-RT then the 430EX III-RT is an inexpensive and lightweight master with most of the capabilities of the ST-E3-RT plus an AF assist light. However the control layout makes it less intuitive than the ST-E3-RT which I've had three years of experience using.

One last thing… the flash displays it's ID code on the rear display all the time it is set as a radio master or slave. This means another photographer can look at your flash and find out both your radio channel and ID to potentially use your flash.