Manfrotto Announce New Prolight REDBEE 210, Advanced PIXI and BeFree Messenger and Drone Backpack
D1 Done Backpack
Manfrotto announces the new D1 DRONE BACKPACK, the first all-in-one carry system in a brand-new range of products designed to carry a quadcopters like DJI Phantom 3 and its remote controls as well as a DSLR camera, laptop and tripod. It is engineered to offer maximum protection, comfort and lightness: key features of all Manfrotto Bags.
Aviator Collection
Part of the Aviator Collection, the Drone backpack is dedicated to professional and advanced photographers and videographers looking for an excellent solution to carry their flying cameras, mount them quickly and change location fast.
3 Key features
This backpack safely carries a quadcopter with its remote control and all its accessories as well as a camera and a tripod. A single bag that is the perfect tool for shooting videos with drones but also for capturing backstage scenes with a tripod-mounted camera.
Perfect for quickly changing location, the drone safely attaches onto the outside of the pack by simply opening the front zip, making it very easy to quickly get out or put away when necessary. The camera stays safely inside and the propellers fit outside the bag. The backpack also features an internal laptop and media compartment, enabling users to organise their work and share it right away.
With the new All-in-One DRONE BACKPACK BY MANFROTTO, you can rely on an efficient backstage at hand wherever you go!
The Drone Backpack is available at £159.95.
---
New Advanced and Pro Light Bags
PIXI Messenger
Advanced BeFree Messenger
RedBee 210 Backpack
Manfrotto announces new products in the Advanced and Pro Light Collections: the PIXI MESSENGER, BEFREE MESSENGER and the REDBEE-210 BACKPACK.
Designed for your tripod
ADVANCED PIXI and BEFREE MESSENGERS feature a dedicated tripod compartment for the tripods they are named after. The PIXI messenger bag holds PIXI & PIXI EVO – the popular mini tripod – in its own rounded, padded compartment. The BEFREE tripod is easily stored in the red front pocket of the Befree Messenger.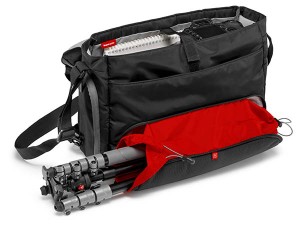 Both new Messenger bags are designed to cater for enthusiast and professional photographers wanting to have everything they need with them to capture the special moments memories are made of. They feature multiple pockets, internal document sleeves and a compartment for a tablet and a laptop; flexible, adjustable padded photographic dividers and a branded rain cover to carefully protect their contents.
Everything at hand
Adding to the Pro Light collection, the REDBEE-210 BACKPACK meets the needs of professional photographers and videographers who require ergonomic, lightweight and protective solutions for their photographic gear.
The new backpack offers easy access to gear from both sides, back and top depending on the user's preference. It can be used to access 2 cameras with lenses at the same time or to hold up to a 400 mm lens attached to the body.
The bag's interior features Manfrotto CPS (Camera Protection System), the fully padded and warranted protection solution boasting 3-D shock-absorbing foam that provides the highest levels of safety and resistance. This unique system is specifically engineered to offer maximum protection all the way to the core of the bag.

These three new key product offerings enrich the Manfrotto bag collection, best known for using a combination of innovative materials, technologies and attention to the smallest details.

Prices from £69.95.

For more information, please visit www.manfrotto.co.uk