Today i've got a true story to share about a photographer who was experiencing some unusual behaviour with their camera, and how a firmware update fixed the problem. More importantly it's a reminder to all photographers to keep their cameras up to date with the current firmware.
Time of day changes with lens
I received a call from a photographer friend asking if I had ever heard of an issue with lenses changing the camera time or date?
They had done a shoot with an EOS 5D Mark III and when the pictures were imported in to Lightroom the order of the pictures did not match the order of the shoot. Lightroom was set to sort by capture time.
The photographer was using a combination of two lenses on a single EOS 5D Mark III body; the EF 70-200mm f/2.8L IS II USM and a newly acquired EF 24-70mm f/4L IS USM. In short it appeared that images taken with the 24-70mm lens were time-stamped around an hour earlier than when they were captured.
This was a new problem to me so I started to consider what could be done over the phone. My first step was to ask the photographer what firmware their camera was using… 1.1.3 they replied.
I've never done a firmware update I didn't think it made much difference
I checked back through the EOS 5D Mark III firmware update info.
There had been fixes relating to shooting time and date being recorded incorrectly in the EXIF data apparently fixed in 1.1.3, the firmware that was being used.
Secondly there was a mention in firmware version 1.2.1 about the EF 24-70mm f/4L IS USM where the focal length written in the EXIF info is not displayed correctly. The combination of date/time and odd EXIF info with this lens led me to suggest a firmware update to the current 1.3.3 version would help.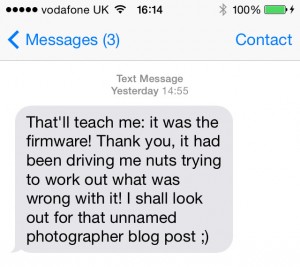 Some thirty minutes later I received a text message, the firmware update had fixed the problem, the time with both lenses matches the time on the camera.
I'd also said that i would write this blog post and keep the photographer anonymous if they wanted 🙂
Firmware – bug fixes for your camera?
The digital camera is part photography tool, part computer. How many updates come out for the computers and software we use day to day? How often does something get found by the market after a product is released? Software updates are the solution to these problems. Think of firmware as the base level software in your camera and keep it up to date.
My top firmware update advice…
Let the brave be first; wait a week once a new release comes out and then go for it.
I also suggest that firmware updates are done with the camera body on it's own, no lens fitted. Many, many years ago a firmware update for a now discontinued camera frequently failed to work if a lens was fitted on the camera when the update was done.
I put the camera on a flat surface or table top and don't touch anything while the firmware update is in progress. Why not stand back and post a picture on Instagram if you must do something…
Using these simple tips I have not had a firmware update fail, or a camera die having its firmware updated. If you consider my past employment history you can guess I have updated a lot of different cameras in my life.
---
All the fun of the firmware 🙂
Anyone reading yesterday's April Fool post about EOS 5DS firmware update should also check out my post from 2012 also on the 1st of April. I've had a lot of fun with firmware over the years.