Canon has launched three new video products created for 4K resolution; Cinema EOS C300 Mark II and the XC10 cameras and the DP-V2410 reference monitor. In addition Canon Inc in Japan has also announced the XF-AVC video codec for high quality 2K, 4K and HD video footage.
Canon announces its next generation of input-to-output solutions for 4K production workflows. The range includes the DP-V2410, a robust 24-inch 4K reference display, and two new 4K camcorders – the EOS C300 Mark II, a 4K Cinema EOS camera and the XC10, a compact, lightweight 4K video and digital stills camera for aspiring filmmakers.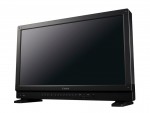 DP-V2410

EOS C300 Mark II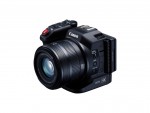 XC10
The DP-V2410 – 24-inch 4K Reference Display
The new DP-V2410 has been engineered for use on-set or on-location in both broadcast and cinema productions, to provide accurate and reliable output of 4K content, facilitating live shooting for quality control, focusing and exposure confirmation, as well as on-set colour management and grading.
Sitting alongside the existing DP-V3010 in Canon's 4K reference display range, the DP-V2410 delivers stunning 4K 4096 x 2160 resolution with astounding accuracy in colour reproduction. Thanks to a new High Dynamic Range Mode, the display makes it easy to see both extreme highlights and shadow detail simultaneously, providing a more natural and realistic image. The DP-V2410 has also been optimised to support the DCI-P3 cinema standard, the ITU-R BT.2020 broadcast standard and ACES Proxy (ACES Ver. 1.0). Furthermore, a new IPS panel with RGB LED backlight system enables a 2000:1contrast ratio, whilst Canon's automatic colour and brightness correction system ensures consistent image quality, colour and luminance, over time.
Equipped with both 3G/HD-SDI and HDMI interfaces, plus a built-in debayer, the DP-V2410 is able to show native 4K RAW footage direct from compatible Cinema EOS cameras, saving costs on an external debayer unit. In addition, an image quality link-up function automatically synchronises the colour settings from compatible Canon cameras, preventing settings errors.
A range of on-set functions enable quick and easy content review, including a 4K capable Wave Form Monitor and Vectorscope which confirm signal data. Additionally the display features multiple 1D/3D-LUTs for convenient monitoring and an audio level meter for accurate sound recording.
The DP-V2410 is encased in a sleek and robust body and incorporates a sturdy handle. Weighing just 12kg, it's easy transport around sets, and is equipped with a 24 volt DC power unit to work throughout the day.
The DP-V2410 is expected to be available in Europe in Q4 2015.
A new generation of 4K video capture – the EOS C300 Mark II and XC10
The EOS C300 Mark II is a new highly durable Cinema EOS 4K video camera, which enables filmmakers and broadcasters to record stunning 4K video with 15-stops of dynamic range at high bitrates to internal CFast 2.0™¹ cards.
Created for aspiring filmmakers, or ideal for use as a B camera in professional productions, the XC10 is a new compact digital camcorder that offers the versatility to capture both high bit rate 4K video and 12MP stills, in one single device.
---
Canon premieres the XC10 – a breakthrough compact 4K video and stills camcorder
Canon today unveils the XC10 – a compact, lightweight video and digital stills camera that brings professional 4K quality to aspiring filmmakers and enthusiasts. Inheriting many of the Cinema EOS range's features, the XC10 offers incredible recording versatility and is the ideal solution as a small, stand-alone camera for independent film makers or the perfect accompaniment as a supporting B camera in larger productions.
Unleashing 4K recording for enthusiasts
Boasting outstanding market leading image quality, traditionally associated with larger cameras, as well as the flexibility and ease of use of traditional compact camcorders, the XC10 delivers consistently breath-taking results. Its advanced imaging engine – a powerful combination of a specially developed 1" CMOS sensor and Canon's new DIGIC DV5 image processor – gives both budding filmmakers or experienced pros the blistering speed and quality they demand to capture 4K video, at a wide range of variable bit rates.
Able to fit seamlessly into workflows, or productions with existing Cinema EOS cameras, the XC10 can record UHDTV standard (3840 x 2160) 4K footage to an internal CFast 2.0™¹ card at up to 305Mbps, or Full HD (1920 x 1080) footage to an SD card at up to 50Mbps, with pro-standard 4:2:2 colour sampling for high resolution performance.
The XC10 delivers rich colour, synonymous with Cinema EOS cameras, with a high ISO of up to 20,000, ensuring excellent results in low light conditions, and a 12-stop Wide Dynamic Range, providing vivid detail in both highlights and shadows.
Shooters have the freedom to capture a diverse range of scenes in professional 4K quality using a specially developed 10x optical zoom lens, complete with Canon's class-leading image stabilisation technology. With a versatile 27.3-273mm focal range (35mm equivalent, in video mode) videographers can easily switch between capturing sweeping scenes, to intimate close ups with a single lens. Pros and enthusiasts alike can change between movie recording and still image shooting, capturing high quality 12.0 MP images, or extracting 8.29 MP stills from 4K video footage.
Uncompromising design, optimised for easy shooting
The XC10 redefines the boundaries of advanced compact camcorder design, with a body that's instantly intuitive to use. Once in your hand, you'll find a rotating grip that supports a variety of shooting styles, as well as essential feature controls at your fingertips, including a manual zoom and focusing ring. Designed to match any shooting preference, the camcorder features a 7.66cm vari-angle touch LCD, with 100% field coverage, providing direct access to the menu system through a simple set of cross keys, while an included optical loupe viewfinder, that fits the LCD, offers a more traditional shooting experience.
Fostering creativity with expert workflows
Professional videographers can easily integrate the XC10 into existing production kits and workflows, thanks to its portfolio of professional standard codecs and recording modes. Canon's new XF-AVC H.264 codec supports recording in both 4K and Full HD quality, enabling easy integration into industry- standard Non-Linear Edit systems. Canon Log Gamma also enables maximum freedom in post-production editing and processing and seamless quality matching with content shot on Cinema EOS cameras. Additionally, videographers can freely shoot in 4K, and later down convert to Full HD, to create a higher quality end product, and enable greater flexibility in the editing process.
A selection of slow and fast motion recording modes – including up to 1200x fast motion in 4K/Full HD, and up to1/4x slow motion in HD – as well as interval shooting provide further creative opportunities.
The XC10 is also Wi-Fi compatible; enabling remote control of key features via a browser, smartphone or tablet – securing its position as an essential part of any Cinema EOS video shooter's toolkit.
XC10 Key benefits:
Stunning 4K video and 12MP stills from one compact camera
High bit rate XF-AVC files, great for post production
Seamlessly integrate with professional workflows
Get creative with fast and slow motion recording
Built-in Wi-Fi for easy browser/smart device control
Pricing and availability
The XC10 will be available from June 2015 with an RSP of £1599.99.
---
The EOS C300 Mark II – Stunning 4K quality, creativity and versatility
Canon today unveils the EOS C300 Mark II, a new 4K video camera allowing filmmakers and broadcast producers to realise their creative vision in stunning cinematic detail. Building on the unprecedented success of the acclaimed EOS C300, the more rugged EOS C300 Mark II features an advanced imaging engine with dual DIGIC DV5 processors, new professional codecs and outstanding dynamic range, making it the most capable, flexible and accessible Cinema EOS video camera to date.
Supreme 4K image quality and versatility
With the ability to record 10-bit 4:2:2 files internally at up to 410Mbps in 4K, or 10/12-bit 4:4:4 files in 2K/Full HD, with up to 15 stops of dynamic range, the EOS C300 Mark II provides footage suitable for extensive post-production work, producing crisper images across the full colour spectrum with reduced "colour bleed". The camera offers professional filmmakers and broadcasters alike the very best image quality, recording 4K in both broadcast (3840 x 2160) and DCI cinematic (4096 x 2160) resolutions.
The EOS C300 Mark II can record high bitrate 4K files internally to dual CFast 2.0™¹ media, while simultaneously recording 4K RAW files to an external recorder, offering the flexibility and universal appeal for production at the highest quality available today. Additionally, the ability to record 2K/Full HD Proxy files to an internal SD card, at the same time, further streamlines the production workflow process.
The new Canon-designed Super 35mm CMOS sensor and an increased ISO range up to ISO 102,400 deliver exceptional low light performance, allowing operators to capture low-noise footage across a variety of challenging environments without compromising on image quality.
To meet the requirements of a diverse range of shooting applications, the EOS C300 Mark II offers both full manual control, ideal for cinematic environments, as well as automatic modes. These include, enhanced Dual Pixel CMOS AF (now covering approx. 80% of the frame vertically and 80% horizontally), auto white balance and Face Detection AF, all making it easier for independent news gatherers and documentary filmmakers to shoot on the go.
Instant integration into professional workflows
Canon's new range of XF-AVC H.264 codecs, designed to be compatible with industry standard Non-Linear Edit systems, makes integrating both 4K and 2K/Full HD footage into workflows effortless, while maintaining the highest image quality. The range features XF-AVC intra for 4K, and XF-AVC Long GOP and Proxy options for 2K/Full HD recording, both of which utilise H.264 codec, offering post production flexibility and ease of use. Filmmakers can select the resolution and codec type that best suits their production, with the EOS C300 Mark II capable of shooting at up to 30P in 4K or up to 120P in 2K/Full HD.
The EOS C300 Mark II offers support for a wide range of colour space options, including BT.2020, the Canon Cinema Gamut and DCI-P3. The camera is also the first Cinema EOS model to feature brand new Canon Log2 technology, which enables the 15-stops of dynamic range, significantly wider than previous Cinema EOS cameras. The camera offers new versatility for sound recording too, supporting 4-channel audio recording in 16 or 24 bit and 48 kHz.
Designed for versatility
The EOS C300 Mark II boasts the iconic Cinema EOS design DNA – a modular body that can be adapted to suit the needs of each shooter and filming situation, through the extensive range of compatible accessories. Internally, the EOS C300 Mark II also includes built-in electronically controlled glass ND (neutral density) filters, which reduces the amount of light reaching the sensor by up to 10 stops in expansion mode. Compatibility with the RC-V100 remote control and optional Wi-Fi control also enables ease of use in a wider range of locations.
The camera's sensor read-out speed is now twice as fast as the original EOS C300, and further reduces rolling shutter distortion, allowing for crisp image capture in a moving environment, making it perfectly suited for capturing action sequences.
Leveraging Canon's rich heritage in lens design, the EOS C300 Mark II is compatible with more than 90 current EF and EF Cinema lenses allowing operators to use their existing EF mount lenses. In addition, the EOS C300 Mark II comes equipped with Canon Cine servo zoom lens support, delivering one of the most comprehensive selections of lens possibilities for movie and broadcast production available in the market today. For further flexibility, shooters can opt to change the lens mount from the default EF Mount, to EF Mount with Cinema Lock, or to the industry standard PL mount, as a service option².
EOS C300 Mark II key benefits:
High bitrate internal 4K recording with external RAW
High dynamic range files, ideal for post production
Seamlessly integrate with professional workflows
Automatic features make independent shooting easy
Shoot with confidence in low light with low noise
Pricing and availability
The EOS C300 MKII will be available from September 2015 with an RSP of £11,299 excluding VAT.
Notes
¹ Canon is an authorised licensee of the CFast 2.0™ trademark, which may be registered in various jurisdictions
² Available via chargeable service