Speedlite flash workshops
This week I've run two workshops for EOS Magazine in Oxfordshire; Getting Started with Speedlite Flash and Creative Speedlite Flash. I love doing these, and there were a couple of guys who went through both days back to back. I think they were pretty full of flash info at the end of the second day 🙂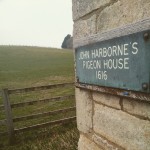 The weather wasn't really playing it's A-game so we worked mostly indoors in the lovely 17th century Pigeon House that is the location for the workshops with EOS Magazine.
Workshop model Natasha

Model for the two days was the lovely Natasha Chick, and she was fantastic to work with. I always think that modelling for workshops must be slow paced for models though Natasha did a great job and I saw plenty of great photos from the workshop attendees. The picture above is just a single light and I'm using a bit of bounce from the wall to light her face.

We did break out the gels on the flash, adding CTO gels to convert the flash to tungsten light, setting the camera for tungsten and letting the daylight go blue. This was with two Speedlites in soft boxes, above and below Natasha. By controlling the Speedlites in different groups the amount of fill from below can be adjusted to taste directly from the camera. This picture is actually E-TTL for both top and bottom light.
Build familiarity with the Speedlite controls
We didn't just photograph Natasha. I've found that a simple product photography lighting setup is a really good way for the workshop people to get used to making changes to the extensive range of camera and flash settings. These bottles were lit with just two Speedlites. It gives the option for E-TTL, Manual and even External Auto flash settings.
---
More Speedlite workshops on the calendar
My photo workshop and event calendar has all the entries for my upcoming workshops and talks; there's a couple of new dates in May and October for this back-to-back two day series with EOS Magazine there too.
A great deal on two workshops with EOS Magazine
I think the workshops with EOS Magazine are really amazing value at the full price of £109 each day, but if you want a discount consider these deals…
Deal #1 – best value
EOS Magazine subscribers get £20 off each workshop booked, that makes the workshops cost just £89 each day and the subscription is £21.95 for the year.
This makes two workshops and a great magazine just £199.95
Deal #2 – the discount
If you don't subscribe to EOS Magazine you can use the code P4P10 when booking your workshop to get £10 off the price.
This makes the two workshops just £198
EOS 5D Mark III workshop
I'm heading back to EOS Magazine next Friday for a fully packed out EOS 5D Mark III workshop. It's fully booked so you need to book a date later in the year.