The Speedlite 600EX-RT indicates that the flash head is bounced up, tilted down or the wide panel is deployed. Do you recognise the icons?
1. Flash head bounced up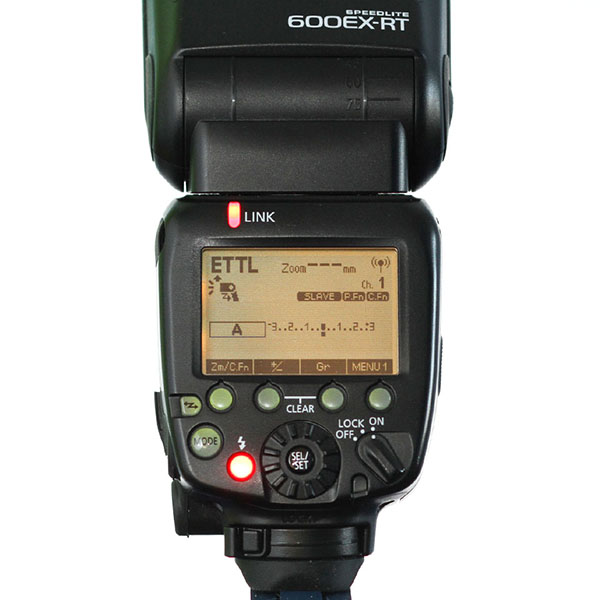 With the flash head bounced upwards there is a small up arrow just below the E in ETTL on the LCD display. If this little arrow is showing then the flash thinks the head is being bounced, even fractionally. Bouncing the flash head also has the effect of switching off the distance information provided by the lens if the flash is on the camera hotshoe.
2. Flash head tilted down
The flash head can be angled down a few degrees, this can be helpful when shooting really close subjects with macro lenses. Most often it's a heavy handed firing of the flash to the camera that causes this. You can see the downward arrow in the graphic below the flash icon.
3. Wide panel pulled out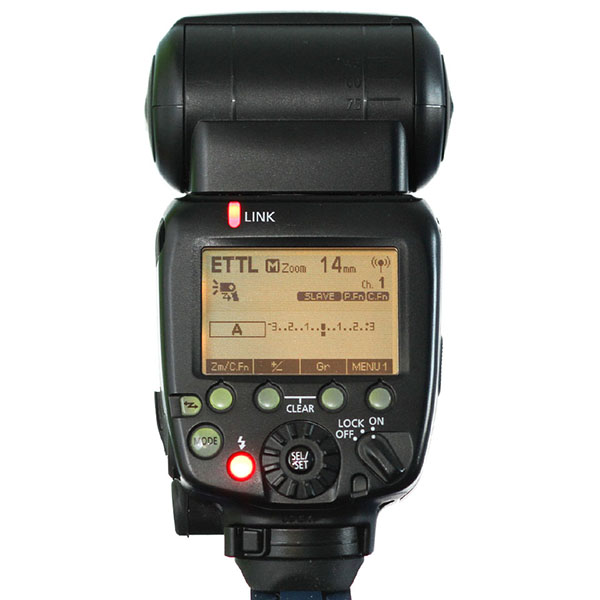 The Speedlite 600EX-RT can automatically zoom the flash head to match lenses from 20mm to 200mm, but there is a small pull out wide panel in the top of the flash head. Even if the panel is slightly moved from it's home position the flash head will indicate 14mm zoom setting. Don't forget that the range of the flash decreases as the light is spread wider to cover the angle of view of a wide-angle lens.
I've been working on some materials for a training course focussing on the Speedlite 600EX-RT & Speedlite Transmitter ST-E3-RT. I photographed most of the displays possible from the Speedlite 600EX-RT in the process, hundreds of pictures.
The flash is lit with another Speedlite 600Ex-RT bouncing off a white foam core board on the camera left, and the white background is lit with another Speedlite 600EX-RT fitted with a Lastolite EzyBox Speedlite soft box. I needed 1/20s shutter speed to allow the colour of the panel illumination to show in these pictures.
Speedlite 600EX-RT training in 2015
I'm going to be running a dedicated Canon Speedlite training workshop at Studio Blanco in Oxford during February 2015, so keep you eyes open for this going live.