Canon has reached a landmark in it's EOS history, and is celebrating the production milestone of 100 million EF lenses.
Canon press release
Canon achieves world's first as production of its interchangeable lenses surpasses 100 million mark
Canon today celebrates the achievement of a new lens manufacturing milestone, with the production of the company's 100 millionth EF-series interchangeable lens . As the first manufacturer in the world to achieve production of 100 million lenses, this latest accomplishment follows approximately just eleven months after Canon announced production of the 90-millionth lens in May 2013.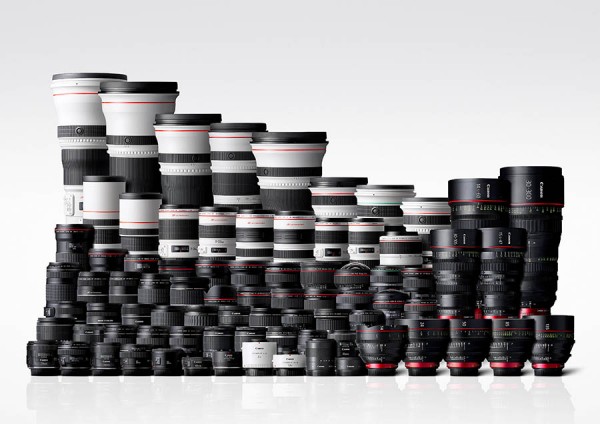 Over the past 27 years, since the launch of the company's proprietary EF lenses and EOS SLR cameras in March 1987, Canon has been at the forefront of the imaging industry and lead the development of a wide range of innovative technologies and world's firsts, such as the Ultrasonic Motor (USM), Image Stabiliser (IS) technology, and a multi-layered diffractive optical (DO) element. More recently, Canon's EF 200-400mm f/4L IS USM Extender 1.4x became the world's first[2] super telephoto zoom lens to feature a built in 1.4x extender.

Canon's extensive EF lens-series continues to be enjoyed across the world by both amateur and professional photographers alike, and today compromises of over 80 models, making it the largest range available on the market today. Recent innovations have seen the EF range extend into new fields, with the launch of the company's EF Cinema lenses for digital cinematography in January 2012, and EF-M lenses for its Compact System Camera, the EOS M, in September 2012.

The continued popularity of Canon's EF range was highlighted again recently through the company's achievement of the No. 1 volume share of sales worldwide within the interchangeable-lens digital camera[3] market for the 11th year running[4]. Furthermore, February 2014 also marked another new manufacturing milestone as the combined production of Canon's film and digital EOS-series interchangeable-lens cameras surpassed the 70million unit mark.

Canon will continue to refine its diverse imaging technologies based on its core optical expertise, and expand the photographic and video imaging culture by producing exceptional and reliable lenses and cameras that cater to all needs, from everyday snappers to advanced amateurs and professional photographers.

[1]On 22 April 2014 [2]Among interchangeable lenses for SLRs [3]Digital SLR and Compact System [4]Based on a survey by Canon, for the period from 2003 to 2013

Just recently I was asked about the lens that I would love to own, there are several, but among my list of wish list lenses there is the EF 200mm f/2L IS USM and the EF 400mm f/2.8L IS II USM, what would be your wish list lenses from this incredible collection?