Improve your results with Canon lenses
Lenses are not all perfect, in fact perfect lenses are just not possible. They would be impossibly large, heavy and expensive. They'd probably be impossible to manufacture too.
Most modern EOS cameras can be set to automatically improve images taken with a huge range of Canon lenses. There's a feature in the camera called lens aberration correction and it uses a profile to optimise images.
You can see the difference even with the professional L-series lenses. See the tabs below for an image with no peripheral illumination correction, the default amount that would be applied to in-camera JPG.
You need to look at the level of corner shading between the two pictures. Clearly the corrected one is less dark at the corners. This picture was taken with an EF 70-200mm f/4L IS USM lens on an EOS 6D. Aperture was f/6.3, and the focal length 160mm. The difference is subtle but still exists.
26 out of 40 profiles installed at the factory
Each camera that provides lens aberration correction can store 40 different lens models. Canon typically installs 26 lens profiles in the camera at the factory, the ones installed vary by camera model.
How to update your camera's lens profiles
You need to use the Canon EOS Utility software to change the lens profiles in the camera.
 Step 1 – open EOS Utility & select camera settings / remote shooting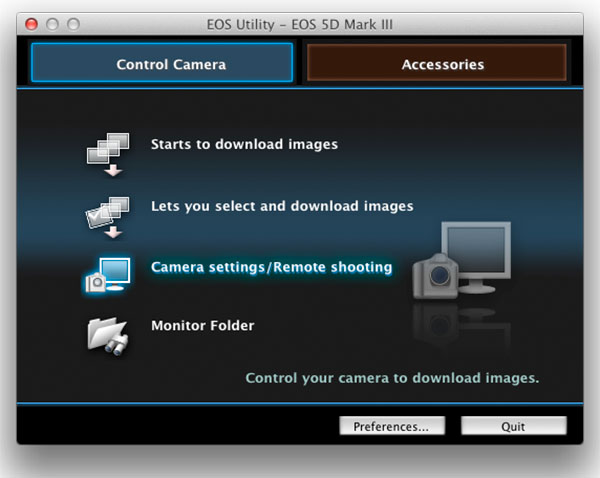 Step 2 – choose lens aberration correction
Once the camera settings / remote shooting window opens, select Lens aberration correction – highlighted in red in the screen grab – to bring up the list of lenses installed and available to install.
Step 3 – select the lenses you own, use or plan to use
Each new version of EOS Utility adds lenses, sometimes new ones, sometimes older or obsolete ones. I have found some real improvements with an old EF 24mm f/1.4L USM lens I own.
It's important that if you have or use EF Extenders to add those for the lenses  too. A lens like the EF 135mm f/2.L USM can work with extenders so I would add the lens, the lens plus the 1.4x Mk II extender I have and also the latest 1.4x and 2x Mark III models as they are the ones I most likely will borrow or rent.
The lens aberration correction profiles are different to the enhancement provided by the Digital Lens Optimizer (DLO) feature in Digital Photo Professional (DPP). You can read more about DLO here.