Click the picture above for the latest version of this post 
Tethered shooting to Lightroom
EOS 6D supports tethered shooting using Canon's EOS Utility software, and it's a simple case to set up the tethered shooting over a WiFi link thanks to the camera's built-in WiFi feature. Currently Lightroom 4.3 doesn't support tethering of the EOS 6D via USB or WiFi connections, so you have to use a combination of EOS Utility and Lightroom Auto Import to achieve the desired result.
Steps to tether EOS 6D in to Lightroom
Configure the WiFi on the EOS 6D for your network environment
Configure the folder that the images from the EOS 6D are stored in
Configure Lightroom to Auto Import from the folder created in the step above
Configure the EOS 6D WiFi
This is the simplest WiFi set-up of any of the Canon WiFi transmitters I have used so far. Simply follow the menu on the camera to configure the EOS Utility mode. It's easier if you are using a WiFi router / access point since you don't need to preset various network settings and ip addresses.
If you want to shoot tethered to your computer out on location then you will need to create an ad-hoc (point to point) network on the computer and manually set the ip addresses for the camera and computer.
Set EOS Utility to automatically start up in remote shooting mode
I previously wrote an article explaining how to achieve this with a Mac for USB connections, but for WiFi you also need to make sure you have the WFT pairing software set to start when your computer starts up. The setting is in EOS Utility preferences under the basic settings.
Configure the folder for EOS Utility to save the pictures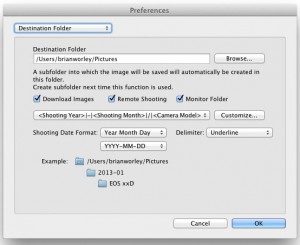 Normally I have EOS Utility set to sort out pictures for me automatically by date and camera, so pictures are stored in a folder that might change

/Pictures/2013-01/EOS 6D/

For this kind of tethered shooting I would configure EOS Utility to simply store the images in a folder for the camera. This then ensures that I don't need to change the Lightroom settings each month 🙂

/Pictures/AutoImport/EOS 6D/

In the Destination Folder section of the EOS Utility preferences I configure a custom folder structure as shown below.
Configure Lightroom to Auto Import from a folder
From the Lightroom File menu choose Auto Import
You first need to configure Lightroom settings to import from the folder that EOS Utility will put the pictures in [/Pictures/AutoImport/EOS 6D was used above] then make sure to check the Auto Import checkbox.
When new pictures arrive in the chosen folder they are picked up by Lightroom and moved to the chosen destination folder. Files can be set to be renamed using familiar Lightroom templates.
Not just for EOS 6D…
Of course when new EOS cameras first come on the market there is often a time when third party software is not fully supporting them. This technique of using the manufacturers own tethering software with Lightroom works in such cases. In the case of EOS Utility there's a lot more control than is normally available from the simple Lightroom tethering interface and so I tend to use this method to tether from all my EOS cameras in to Lightroom. Usually the limiting factor is the support for the RAW images in Lightroom / ACR. EOS Utility can also be set to only transfer JPEG images from the camera when shooting RAW and JPEG to the card. This makes for fast transfers over WiFi and also speeds up Lightroom's ability to show a preview.