Image transfer options for sports
The EOS-1D X added a gigabit LAN connector to the side of the body, and the wireless file transmitters (WFT) for the other cameras all have a LAN connection in addition to WiFi.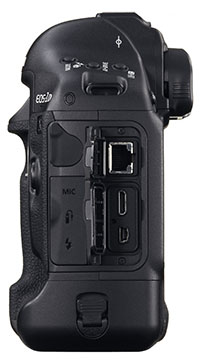 Studio photographers using WiFi often choose to send each image as they work, pictures appear on a big screen for all to see, photographer, models, clients, art directors and more. However in the world of sports photography, particularly stadium based events like football and rugby then hard wired ethernet is often provided to the photographers positions. The aim is to make it simple to send the pictures straight to the agencies.
Transfer with SET
Even with gigabit LAN and fibre optic ethernet infrastructure it may be that sending everything is too much. Often the photographer knows he has the shot, it is essential to be able to send the key picture easily.

WiFi transmitters and the LAN port on the EOS-1D X can be configured to use several communication methods. By choosing ftp mode the camera can be set send  files automatically or the photographer can go in to the menu and select a group of files to send.

To simplify the process of sending the best image quickly it is best to set the camera to Transfer with SET. This means that while reviewing a picture on the camera LCD a press of the SET key in the centre of the rear control dial initiates an ftp upload of the displayed image.

Here's the screenshots to look for in the EOS-1D X, it's very similar in the other EOS cameras that support a WFT unit.
If you use a Mac as an ftp server you will need to check out my earlier post on how to activate the built-in Apple ftp server in Mac OS-X 10.7 and 10.8.