Back when the EOS 6D launched just as Photokina opened Canon also announced something called Project 1709, a cloud based image management system. I signed up for the beta program and just recently got an invite to join in the fun 🙂 Though it seems that there are very few folks with access at all as yet.
It's a beta…
First things first, this is clearly not yet ready for prime time with the general mass of internet users. Even now as it slowly opens up for "beta testers" several features are not working well or consistently, some aspects of the system don't like certain computers or web browsers.
So with a suitable web browser – Firefox 16 on the MAC – I was able to access the site. You need to use an existing Google, Facebook, Windows live or Yahoo to login. To me this is preferred, rather than yet another account name and password to remember (or forget). I've used my Google account for the test and it's working fine so far.
What does it do?
Project 1709 lets you upload images to the cloud and then you can share them to Facebook, organise and tag them. That's pretty much it as it stands so far.
Remember this is a beta stage of the project so there's bound to be more features and functions to come.
Uploading uses one of three methods currently;
A desktop uploader / synchronisation app that is currently only for Windows. This automatically synchronises images in the selected folder on your computer to your Project 1709 account.
The selective upload feature, similar to how you would upload images to other websites. You can upload a maximum of 10 images at a time via the web uploader.
Facebook import; Project 1709 can collect your images from your Facebook albums too.
One thing that the FAQ section of the site makes clear, is that Canon is not intending it to be an image rights grab, in fact there's a simple question and answer in the site's FAQ on exactly this topic.
Can I opt out of allowing Canon to use my images?

Use of Project 1709 does not grant Canon any rights to use your images in any way.

Can I edit my content in Project 1709?

Currently Project 1709 is focused on finding and viewing your images.

- FAQ - Project 1709.com
Project 1709 is targeted for launch sometime in 2013 – it clearly isn't ready yet, but it could be interesting to see where it goes from here.
Unlimited storage space
For this beta there's no limit to the uploads, but maybe that will change or be chargeable in the future.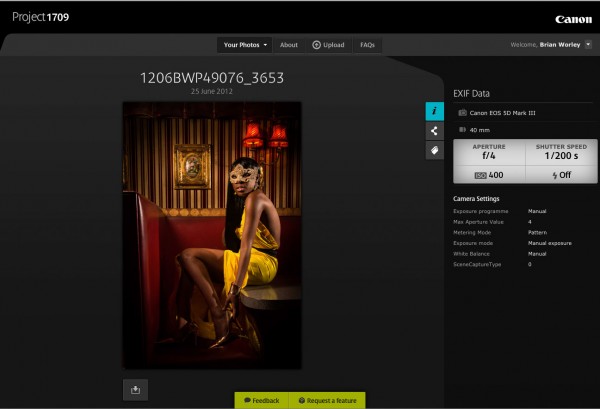 I did try to upload a RAW from my EOS 5D Mark III but Project1709 doesn't like big files via the web uploader. Though to be honest few web upload tools like 29MB files.
I'd call it pre-Beta version
Although labelled and identified as a beta, Project 1709 is, in my view, still very early in the development cycle. It's quite unusual for Canon to offer this kind of early access to projects. I'll keep looking and testing functionality as it matures and develops a little more. I've been giving the Feedback and Request a feature links at the bottom of each page plenty of use. I just hope the developers have time to read all the requests and feedback.
Apply to be a beta tester; request an invite to Project 1709
Considering the press release says that Project 1709 is targeted to be the one place all your pictures are then maybe the traditional photo gallery sites like flickr, 500px and even photo shelter are not the target. I wonder if Canon preparing to not only offer the capture tools but the organisation and storage for it's customers photos – just have to wait and see how they deal with the terabytes of images I already have created during a mere 17 years of digital photography. Wonder how it would cope if I scanned all my old slides and negatives too?
Are you a Project 1709 alpha tester…?
Waiting for an invite…?
Share your views in the comments…