Gumball 3000 Rally, London March 26, 2011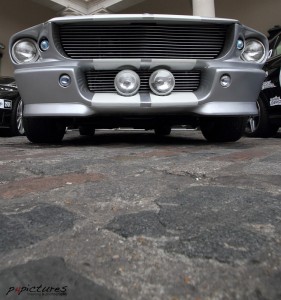 The Gumball 3000 Rally is open to all kinds of cars, but it's the supercars actually the hypercars that attract the crowds. It's not that often that Covent Garden is a car park for Buggattis, Aston Martins, Rolls Royce, Ferrari, Porsche, Bentley, Spyker, Maserati and even the odd Maybach stickered up for a rally. My favourite of the lot was the beautiful Aston Martin One-77 with it's awesome copper coloured foil wrapping. Another standout was the Rally organiser's Rolls Phantom Drophead Coupe in a matt cammoflage finish.
Celebrities (?)

Gumball 3000 draws a number of celebrities with varying degrees of fame alongside Sheiks and those with the necessry £45,000 required to enter a car in the event. This year the rally was started by David Hasselhoff in a torrential downpour that tested camera kit to the maximum. See my other post on EOS Network for details of what survived the drenching.
The rally start
All that is between the 'Ballers' and Istanbul is a 3,000 mile drive across a handful of countries with lavish parties in luxury hotels at the end of each night. Sounds like a hard life
You can see more pictures on the fuletopia website. I owe a big thank you to fueltopia for coming through with the press passes for the event.
If you have the money, and an appropriate car then leave a message in the comments and we'll do this next year. I'm more than happy to drive all the way you can just do the parties!